This post may contain affiliate links. Read my disclosure policy here.

Project to Tackle: Top of the Bookshelf
It is working!
I was showing Crystal, one of my best friends and scrapbooking buddy, (and one of the only people I let see my house when it was in total chaos,) around my blog tonight and she was stunned at how much cleaner my house was.
Somehow I had failed to mention Tackle It Tuesday to her and during these busy last couple months, she hasn't been over to see my new and improved "tackled" house.
(Don't worry there is still a ton to do. So much in fact I have weeks of projects before me. For instance, my basement storage room has its contents spilled all over the place as I started to tackle the disaster, then stopped and have proceeded to procrastinate on all summer. Must tackle soon!!!)
Wow – it feels good!
Now onto todays tackle. Well, it is lacking in scale, but I was oh so tired tonight. It needed to be a tiny tackle or else I just wouldn't make it.
So I tackled the top of a bookshelf that is in our family room. This mess has been driving me nuts, but since I am the queen of procrastination, I have refused to deal with it for years – literally. The stuff up there dated back for two and three years! And the dust – well mites have bred long ancestral lines up there. It was not pretty.
Oddly enough, I have tackled the bookshelf a number of times and even recently. But I left the top alone. I am telling you I do take procrastination to a higher plane.
But tonight the dust mites met their destruction and the recycling bin got jammed with old catalogues and community guides.
Top of the Bookshelf — Before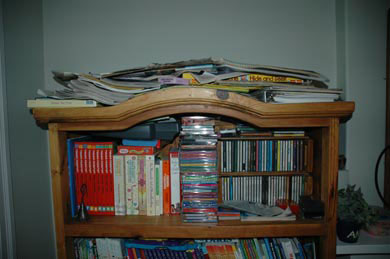 Top of the Bookshelf — After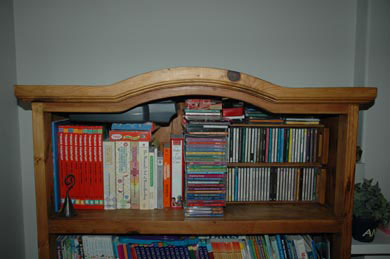 Tackle It Tuesday wins again!
We are making housework blog-able!
Join Us For Tackle It Tuesday

Each week on Tuesday, we are posting before and after pictures of a project or trouble area that we tackled this week.

I will link to any of you who are also playing along, so add a comment and/or email me. Find out more about Tackle It Tuesday here.

The project can be little or big – whatever you want. Basically, Tackle It Tuesday is about giving ourselves incentive, deadlines and satisfaction in getting our household tasks done.