This post may contain affiliate links. Read my disclosure policy here.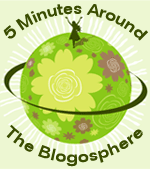 CONTESTS & ANNOUNCEMENTS
Here's To Good Women is giving away a $200 shopping spree to one lucky Mom. For more detail on how to enter, stop by their site today!
Outback Steakhouse is celebrating their 20th Anniversary and would like to offer you a free Coca-Cola Zero NCAA commemorative glass, gift certificate for a Bloomin' Onion, and the chance to win tickets to next year's NCAA Men's Final Four. Stop by today!
The Parent Bloggers Network is teaming up with AskPatty for their weekly blog blast this Friday. The theme is Anything They Can Do, We Can Do Too. To participate, just write a post telling us what you can do just as well as any man out there. Thirteen random winners will receive a CarMD Handheld Tester which plugs into the port on your dashboard and tells you what's working and what's not on your car. How cool!
Join One Mom's World and a whole bunch of other great bloggers every Monday at the Spring Operation Weight Off For Moms. To participate, just post your current weight (optional) and how many pounds you'd like to lose that week and you'll find a great group of women behind you offering their support. Check it out!
BLOG GIVEAWAYS
Just for Women
Just for Kids
Baby Essentials
Household Items
Books & Movies for GrownUps
COOL WEBSITES
Gifts.com – Looking for a great gift for Mother's Day? Gifts.com has a very cool and interesting way to figure out what the perfect gift would be. Just figure out what type of celebrity Mom the recipient is and they'll make appropriate suggestions. Go try it out!

Goodies for Mom – In celebration of Earth Day, which begins of April 16th, Goodies for Mom is compiling a list of Earth friendly products where one of them will be "Goodies for Mom Green Product of the Year." So, if you use or manufacture a "green" product, send it in! They would love to hear from you!
Best Buy – As most of you already know, early next year analog television will become obsolete. To help educate the public, Best Buy has set up a hotline – 877-BBY-DTV9 – where consumers can call and speak with a trained home theater specialist to ask questions about the DTV transition and to learn about their options to get ready for the switch.
Nothing But Nets – "The UN Foundation's Nothing But Nets campaign seeks to reduce the devastating effects of the disease through low-cost, long-lasting bed nets. They've already helped cover seven nations, including Zimbabwe and Mali, and have their sights set on more. Nothing But Nets engages a broad grassroots constituency in this effort through partnerships with Sports Illustrated, the United Methodist Church, the NBA and WNBA, Major League Soccer, and VH1. Go here to see downloadable banners and a widget for the game to use on your site."
Earthbound Farm Organic – "Just in time for Earth Month, Earthbound Farm, maker of farm-fresh organic salads, fruits and vegetables, is offering a downloadable pocket-sized "Guide to Choosing Organics" on its website www.ebfarm.com. The Guide outlines "Organics 101", including definitions of common buzzwords like "natural" and "organic", and a list of conventional fruits and vegetables that are most likely to carry multiple pesticides."
If you would like to have a post on your blog featured in 5 Minutes Around The Blogosphere, please send us an email with the actual link to your post at features5minutesformom at gmail dot com and we'll see if it can be arranged.
Kailani can be found at An Island Life, An Island Review, & Island Baby Boutique.