This post may contain affiliate links. Read my disclosure policy here.
If you have a teething baby – you need to get some Teething Bling!
I had forgotten how frantic a teething baby is to get stuff in her mouth! When I saw Smart Mom Jewelry, I thought, "Now, that is smart." When the jewelry arrived for me to review, I thought, "Now isn't that cool and smart!"
But that was before Olivia was born – back when teething was a distant memory. Not until Olivia started scratching me to pieces and eating my hair, tangling her little fingers in it, did I fully grasp the brilliance of "Teething Bling."
From the moment I slipped the necklace around my neck and Olivia grabbed onto the smooth, soft pendant, I knew that Kendra and Amy (aka Smart Moms) had designed a breakthrough parenting product!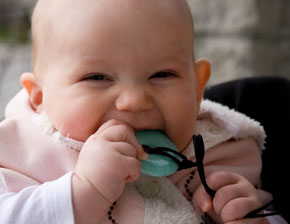 Olivia LOVES her Teething Bling. We are talking major, complete love! They are her favourite toys!
When my friend and her husband were over the other day, my friend thought the necklace was so pretty and couldn't believe that it was a teething toy. Her husband said, "That really is smart!"
And to put all of our minds at ease about what our babies are chewing on, Smart Mom Jewelry is 100% lead free, non-toxic, phthalate free and all pendants come with a breakaway clasp.
My only fear is that I will lose them! LOL Right now I am feeling a little anxious because I don't know where the bracelet is – I haven't seen it in a few hours. I need to search the house. Seriously – we can't live without them!
I am going to buy some extras!
Right now, is a fantastic time to get yourself and your baby set up with some fabulous Teething Bling.


Just new for April, you can get a FREE matching bangle with every pendant purchase – a $12 value.

AND Kendra and Amy have offered our readers a 20% discount! (Use code: S-5M4M)

So, you get 20% off the pendant (the pendant costs $18.90) AND a free bracelet!!!
Seriously ladies – I am telling this to you from one mom to another – buy this if you have a teething baby OR buy it for a mom with a teething baby for Mother's Day. It is teething joy!
And guess what – we are giving TEN of you a Teething Bling set (your choice of pendant and matching bangle.) To enter, just leave a comment at this post.
This giveaway is open to both US and Canadian shipping addresses.