This post may contain affiliate links. Read my disclosure policy here.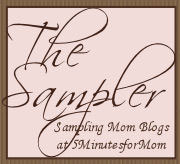 5 Minutes for Mom brings you exclusive samplings from the best mom blogs…
Today I would like you to meet Christine, a.k.a. Queen of the Crazies and the mom behind Serenity, How? She's a Christian stay home mom of two, that is happily married and lives in sunny Southern California. She started her blog in January as a creative outlet and a way to document the funny things her kids (and husband) do.
Christine has an uncanny ability to see humor in life and here's what she told me about blogging: "I hoped it would help in case of memory loss and never be necessary as evidence in a court proceeding. I've been humbled and blessed by the support of the blogging community, but I confess that I never thought anyone but my own mother would read it."
Here's a little taste of Serenity, How?
My Heroes Have Always Been Super
Both of my daughters went through what I call their "Super Hero" phase as preschoolers. It makes perfect sense. At that age they're not quite babies, but not quite "big kids" either. They're still learning to tie their shoes, use the potty, and play nicely with each other, all with plenty of help from Mom and Dad. It's no wonder powerful Super Heroes are so attractive to little ones.
I remember pretending to be Wonder Woman when I was little. That was the main reason I played with boys. No competition. They all argued over who got to be Superman and Spidey, and who got stuck playing Aqua Man. Good times, I tell you.
My oldest daughter was about two when she realized her super identity. Still in her pajamas, she'd don her cape – a white receiving blanket with tiny pink mice all over – and jump off the hearth of our fireplace. One day she stood in the kitchen while I was cooking and announced in as deep a voice as a two year-old can manage, "Hi. I'm Miss Helper. Can I help you?" I tried so hard to keep a straight face as I pretended to be desperately in need of her assistance. Miss Helper saved the day, and with hands on her hips she was off in search of another adventure.
I was more prepared when my youngest daughter emerged as a Super Hero. She was about three and used the same mouse blankie. She ran up to me one day and proudly proclaimed, "Mommy, I'm Little Super Girl!" She was so adorable that I wanted to give her a great big hug, but Super Heroes must be treated with respect. I kept my distance and asked what powers Little Super Girl had. Little Super Girl thought for a moment, then excitedly replied, "I put stickers on people!" After telling her how truly great that was, I reminded her of the rules about where stickers should and should not be, uh….stuck. That was the end of Little Super Girl, or so I thought.
Not long afterward I was standing in line at the grocery store with my children when the man standing behind me tapped me on the shoulder. He looked terribly embarrassed, and said, "Excuse me. I'm really sorry to tell you this, but you have stickers all over your backside." Now I was the one turning red. Little Super Girl had struck! We both laughed and he told me, "I understand. I have kids, too." I left the store with the stickers still in place. Those stickers were Very Special and so was the proud little Hero who put them there.
– Written by Christine of Serenity, How?
If you would like to be considered for The Sampler please review The Sampler Guidelines.
Shera can be found at A Frog In My Soup