This post may contain affiliate links. Read my disclosure policy here.
Generation NeXt Marriage is different from other marriage books I've read. It has convinced me of the benefits of approaching my marriage within the context of my generation.
Gen Xers crave authenticity and relevance. Tricia Goyer delivers both by sharing her own experiences and those of other Gen Xers while backing them up with thorough research and statistics.
I love Tricia Goyer's style. She writes in an uncompromising way about what our responsibilities are to our husbands, but in a way that encourages us to do what we know we should. This book (like her first Gen X book, Generation NeXt Parenting ) is fun and easy to read, with statistics, personal stories, practical advice, and song lyrics from the 80's and 90's.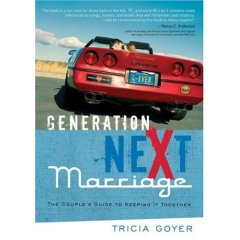 You probably knew that we were the first generation to see more divorces than successful marriages. You are probably living a life where you have to seek balance because you've been conditioned to do it all. You might be striving to prove yourself because people never thought our generation would amount to much. You might be dealing with baggage from the freedom that you took in your teen years.  Any of this sound familiar? If so, you will find inspiration and answers in Generation NeXt Marriage.
Would you like to win a $50 dinner to your favorite restaurant? Click over to Tricia's Gen X blog and read all about her contest.  Just tell her how you met your hubby.  The stories will be printed on her site, and the one with the most comments will win. It's open to bloggers and non-bloggers alike.
Today I have three sets of both books–Generation NeXt Parenting AND Generation NeXt Marriage. Just leave a comment to win. I'll announce the winners next week.
The winners of The Middle Place are

#15 Nicol
#13 Heatheraynne
#36 Kirsten
#9 Valerie