This post may contain affiliate links. Read my disclosure policy here.
'Tis the season to be shopping… online!
As ecommerce store owners, bloggers, and way-too-busy-moms, Susan and I are of course HUGE fans of shopping online!
Not only can we busy moms fit in our shopping between writing posts and driving car pool, but we can hunt for the best prices, and search for items we can't find in our local stores.
When customers come to our own stores looking for pedal cars or the perfect rocking horse for their child, they have usually done their homework. They have googled and compared. They have visited sites and analyzed items.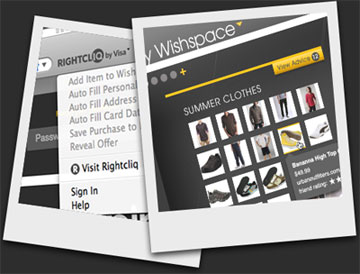 But that online research can end up taking longer than we planned and we can end up with tons of different links from countless sites — and we meant for this to be a time saver!
So, Visa is hoping to help us busy online shoppers with RightcliqTM by Visa — an online shopping tool that helps us keep organized and shop more efficiently as we browse and compare products, checkout on merchant websites, and track packages to our doorstep.
With the plug-in happily installed, you control your shopping universe. Roam the web, grab the things you're thinking of buying and import them right into your Wishspace. Then you can share, compare, ask friends for advice and access all of your payment card details and other information in one handy-dandy place.
Visa asked us to test out Rightcliq and tell them what we thought. They gave me a $75 gift card to go shopping, using Rightcliq to keep me organized along the way.
So this weekend, as I did some holiday browsing, I used Rightcliq, building my "Wishspace," organizing the items I was considering purchasing into bundles.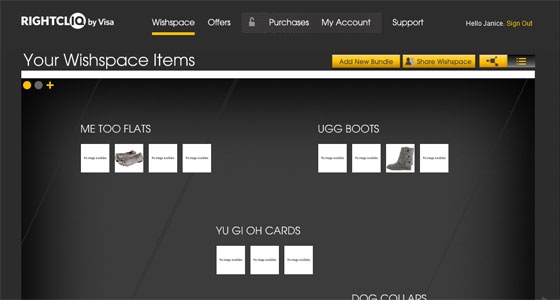 First, I was checking out Uggs — another hockey mom was wearing the Classic Cardy style in grey and I loved them. So I thought I would do a little research in case I wanted to drop any virtual "hints" to my hubby for my Christmas gift.
I also wanted to look for some Me Too flats. On a recent trip, a fellow blogger was wearing a pair of Me Too flats and she raved about how comfortable they are. So I wanted to hunt down a pair — on sale of course! — for all the walking I do at conferences!
As well, I spent some time checking out Yu Gi Oh cards on eBay for my son. They are greek to me though — so I saved some to show Jackson. I will definitely have to get him to help me with those purchasing decisions.
Finally, I decided on the Me Too flats that I found at 50% off. So, I easily clicked over from my Wishspace, added my billing and shipping info, (Rightcliq has Auto Fill options for your card, shipping, etc. which can speed up your shopping!) and then added my purchase info to the purchase section so I can keep track of all my online orders, purchase numbers and tracking.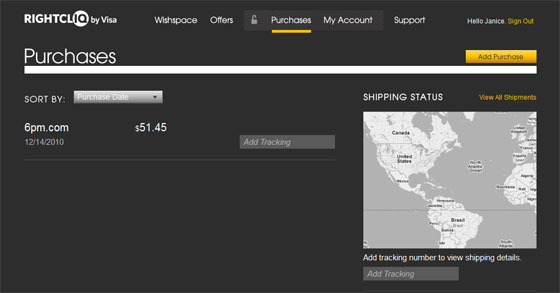 Rightcliq is definitely a good way to keep track of the many sites, tabs, and info you can quickly accumulate when researching and shopping online. It sure was nice to have a place to put the items I was considering as I hunted for the best deal.
I appreciated how easy it is to move bundles around the Wishspace area, delete items, and click over to purchase.
And it is super fun and helpful that I can easily share my wishspace via email or Facebook to get friends and family's opinions!
Also, Rightcliq has a huge variety of online coupon codes from different stores. You can search by stores, categories, types of offers, etc.
It is too bad that, because most of the images on the websites I was shopping on are using flash, Rightcliq wasn't able to grab the photos for my Wishspace. Seeing the items on my Wishspace would be faster than having to hover over to see the details.
As well, Rightcliq sometimes hesitates a bit and I had to be patient as it recognized that I was hovering over an item to select and to gather the site and product information. A few times, it appeared to "hang" and freeze my firefox, but I just had to slow down and wait a second to let Rightcliq catch up with me.
I am going to keep using Rightcliq — I can use all the help I can get keeping my life more organized and time efficient!

If you are looking for a way to keep track of your online shopping and researching, Rightcliq by Visa is worth a "click!"
And please, let me know what you think and if you found it helpful for your online shopping.
Have you tried Rightcliq yet? Are you looking for ways to streamline your online shopping and product researching?
Please Note: Visa supplied me with a $75 Gift Card to test out shopping online using Rightcliq. My opinions are always 100% my own!
Written by Janice, co-founder of 5 Minutes for Mom

Susan and I own two online toy stores where you can find unique toys for Christmas like a pedal car or an inspiring toy kitchen. You know, in case Santa needs any ideas!