This post may contain affiliate links. Read my disclosure policy here.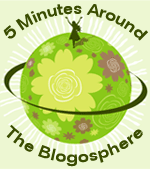 CONTESTS & ANNOUNCEMENTS
Starting tomorrow, An Island Life will be hosting a daily giveaway until April 6th. Stop by for your chance to win some amazing products from J. AUSTIN Ryan Designs, Doodle Bug Web Designs, Fine Art of Family Jewelry, and many more!
The Great Blog Hunt begins on April 2nd. Stop by the official site to see how you can participate and maybe win a cool prize!
Hey all you Ben 10 fans out there! Bandai America is having an Ultimate Alien Hangout Sweepstakes where you could win an awesome Ben 10 room transformation,
featuring Ben 10 room décor, artwork and some of Ben's heroic figures
like Four Arms, Stinkfly, Ghostfreak, and the villainous Vilgax. Deadline to enter is April 10th.
Are you considering going organic? Well, this contest is for you! Go Organic! for Earth Day is offering a chance to win a Grocery Makeover with celebrated Chef and Mom-a-licious® author Domenica Catell. For more information or to enter, stop by the site before May 1st.
Lands' End is announcing the Teachers Light the Way Contest where they will recognize outstanding teachers that have made a difference in the life of a student, a school or a community. In this contest, forty-five (45) teachers will receive the coveted Lands' End Lighthouse Award – representing the company's 45-year history. In addition, readers who nominate a Grand Prize winning teacher will also receive a $250 Lands' End gift card and readers who nominate an Honorable Mention winning teacher will get a $25 Lands End gift card. Stop by before April 17th.
Celebrity Home Keeping Expert, Laura Dellutri, is on the hunt for America's worst kitchen catastrophe and is challenging home-owners/moms to determine if their home's hub is in dire need of a makeover. You can enter to win an exclusive day with Laura for a total kitchen clean-up, a set of brand-new GE CleanSteel appliances and a year's supply of cleaning products. Stop by Rescue My Kitchen before May 1st.
BLOG GIVEAWAYS
COOL WEBSITES
TurboTax.com now has a free Tax Rebate Calculator which can help people determine how big their tax rebate will be. Just by answering a few simple questions, taxpayers can see how much money the economic stimulus plan will put into their pockets. Also, if you earned $30,000 or less or were active military duty or qualify for the Earned Income Credit, you can use the resources at TaxFreedom.com to fill out your forms and e-file. Visit TaxFreedom.com to determine whether you qualify and how you can participate with the TurboTax Freedom Edition.
If you purchased an HD-DVD player or HD-DVD attachment from a U.S. Best Buy store before February 22, 2008, you are eligible for a $50 refund. The offer is available until the end of the year and you don't even have to give up your HD-DVD player! "Most Best Buy customers won't have to do anything to receive their gift card. As a demonstration of its commitment to its customers, Best Buy will proactively mail cards to all customers that the company can identify as having purchased an HD-DVD player. Members of the Best Buy Reward Zone program, customers who purchased Performance Service Plans (PSPs) or who made their purchase on BestBuy.com should look for their gift cards in the mail by May 1. Other customers who may not be easily identified can call (888) BEST BUY to receive their gift cards with proof of purchase through a credit card or their Best Buy receipt."
KidZui is a "revolutionary new browser and online service that lets kids aged 3 to 12 explore more than 500,000 child-appropriate Web sites, pictures and videos reviewed by KidZui's paid team of parent and teacher editors according to strict editorial guidelines. KidZui provides a safe, engaging and entertaining environment that rewards kids' curiosity and involves parents in their children's online experiences. KidZui is available for download at www.kidzui.com."
ANNOUNCEMENTS
There's a new blog in town – Homemaker Barbi – where you will find a variety of topics, including organizing, frugal living, parenting, time management, couponing and freebies, among others.
Mama Luxe is inviting Attachment Parenting practitioners, new parents, and people who are wondering what the heck Attachment Parenting is to come on over and discuss the "eight principles of attachment parenting" on her blog, Mama Saga. The first post is up (Preparation for Pregnancy, Birth, and Parenting) and she will post her thoughts on a new principle each week, along with any links she receives on the previous week's topic. She encourages all to stop by; comment; and, if they have a blog, write their own post and leave her the link.
GREAT DEALS
For the entire month of May, The Gift Therapist is offering a free download of the eBook – Shop Smart GIVE MORE. "This book makes a wonderful gift for mom's who want to teach their children how to be financially responsible, become more generous at heart, and grow up to be great citizens…no matter what their income."
HarperCollins is looking for bloggers interested in free soon-to-be released books for possible blog reviews. If interested, please email Felicia at Felicia (dot) Sullivan (at) HARPERCOLLINS (dot) com. Availability is limited so make your requests soon. Here are the titles:
If you would like to have a post on your blog featured in 5 Minutes Around The Blogosphere, please send us an email with the actual link to your post at features5minutesformom at gmail dot com and we'll see if it can be arranged.
Kailani can be found at An Island Life, An Island Review, & Island Baby Boutique.