This post may contain affiliate links. Read my disclosure policy here.
For kids dreaming of becoming the next "American Idol," I can't imagine a greater thrill than Idol Camp! For two incredible weeks, kids aged 10-15 can hone their skills under the guidance of professional teachers, as well as with favorite former "American Idol" contestants, recording artists, and other top industry professionals.
Do you have an aspiring performer who would love to go to Idol Camp"? If you do, we have a special promo code to waive the $35 registration fee for Idol Camp 2008.
To get everyone in the mood for Idol Camp 2008, 5 Minutes for Mom regular contributor, Shauna from Shaunarumbling, had an exclusive telephone interview with former Idol finalist, Kimberly Caldwell, who will be one of the former Idol contestants appearing at Idol Camp 2008.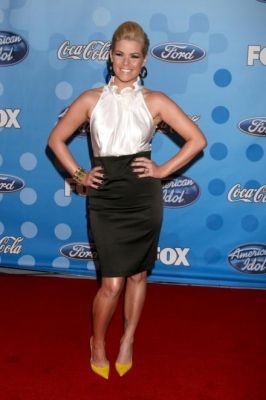 Kimberly Caldwell's appearance as a finalist in the second season of American Idol was only the beginning of her time in the spotlight and on stage. She loves staying busy, and her schedule keeps her that way! On the TV Guide Network she hosts Idol Wrap, Reality Chat (which is also a syndicated radio report), and she co-hosts Idol Tonight with Justin Guarini. Kimberly is a spokesmodel for Michael Antonio shoes, has done photo shoots for several New York magazines, and has appeared in sit-coms, awards events, and other shows. She also appeared in the horror movie Wrong Turn 2.
Kimberly encourages 5 Minutes for Mom readers to stay strong and says her own mother is a big influence on her. "My Mom is my everything. She's like my best friend, my supporter, my shoulder to cry on, my manager–everything!"
I talked to Kimberly about her busy schedule and her current projects:
Since appearing on American Idol, you've done television hosting, acting, and of course, singing! Of all the projects you've done since appearing on Idol, do you have a particular favorite?
I'm not going to win an Oscar for it and it went straight to DVD, but filming that movie was so much fun! I didn't care if I looked stupid or whatever. It was absolutely a blast! I was totally out of my element. I can go on any stage and be totally comfortable. I can be in front of a camera and be totally comfortable. But acting is a totally different thing, so I learned so much. It's amazing what American Idol has given me, the opportunities that I get to have. To even be a part of a movie is so exciting! But my passion and my safe place and my happiest place is definitely in the studio when I'm recording.
What can you tell us about your debut album?
It was supposed to come out 5 years ago and I've been really, really wanting it to be right. I've been really focused on it, and I want to give my fans what they deserve. They've been waiting for a long time, so I want to perfect it before I throw it out there. If you mix Melissa Etheridge and the Judds back in the day, it's that kind of vibe–country rock, funky, very sassy, very me, and definitely unapologetic.
What do you think of the changes that have been made to American Idol since you were a contestant?
The age limit has definitely grown. They now perform with a full band, which is amazing, and I'm so jealous because we just sang to tracks, and having that energy behind you is just the best feeling in the world. When they're in the top 24 or 32, they actually have an audience now. We just had a stage and a camera, and no audience, which is harder than singing for an audience. I would much prefer to have that great vibe and excitement around you when you're singing.
Do you vote for the current contestants?
I probably will a little bit down the line. I usually vote for maybe one or two people a season. My vote this year will probably be for David Cook or Carly Smithson.
Do you still keep in contact with the other contestants from your season?
I do, and I've been so lucky because I've not only become friends with the people from my season and stayed friends with them, but I've also become friends with all the other American Idols from every other year because I've met them through coming on my show at TV Guide. I've done lots of performances with a lot of the other Idols, and I've been grateful to have so many good relationships.

What is the biggest change to your life since being a finalist?
The biggest change to my life since being on the show is that I don't sleep on my Mom's couch anymore. I bought my own house! It's really nice to be able to have my own things and do what I love every day. While I'm working on my album, instead of having to be a waitress or something like that, I'm able to do television as my day job.

What advice do you have for others who have dreams of being an American Idol or have children who want to be performers?
I would say to be honest with them because you see a lot of people who are on American Idol and are the "bad ones" and they say, "Well my Mom said I was good!" It's like, your poor mother should have told you that you weren't good and you should try something else. Maybe you're really good at soccer or something. I think Moms should be really honest with their kids. And maybe if they're not that good, Moms could help them out, take them to lessons, or give them advice, things like that. The best advice a Mom could give to someone trying out for American Idol is to just go in there and not try to be anybody else. Be yourself, soak it up for what it is, and enjoy it! It was hard for me to do because it's so stressful and crazy and a long day. But you're auditioning for American Idol, and this is the chance of a lifetime. Whether you fall on your face or you do amazing, it was an experience and you're still going to be fine when you walk out the door.
Kimberly will be making a guest appearance at Idol Camp this summer in Running Springs, California.
5 Minutes for Mom readers who have kids who want to attend this 2-week performing arts camp for children ages 10-15 can get the $35 registration fee waived by using the promotional code: 5MFM.
To hear Kimberly's music, visit her official site or her MySpace page.