This post may contain affiliate links. Read my disclosure policy here.
Kids toys pile up fast! And our playroom area has been long overdue for a serious cleaning.
So the other day my good friend Julie came over and helped me sort through the mess. We hauled out a few garbage bags full of old, unused toys and junk.
I'm a real pack-rat so letting go of anything is a huge challenge. My minimalist friend Julie forced me to say good-bye to every item that did not deserve to take up critical space in my tiny townhouse. (We're not done yet… but the playroom area is much improved.)
But my little girl Julia (almost 3) isn't much of an inspiration. The next day she came into the room and said: "Hey, where are my toys? I want a mess!"
I forgot to get a before picture, but here's a photo of Julie sorting toys.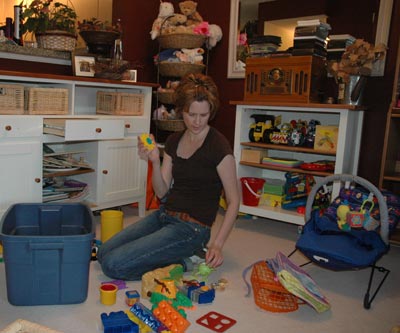 And here's the final scene… it's not perfect, but it is more organized.