This post may contain affiliate links. Read my disclosure policy here.
This November, I had a Christmas treat… a really fabulous Christmas treat!
And yes, Samantha Bee — the hysterical mock journalist from The Daily Show with Jon Stewart — was the star!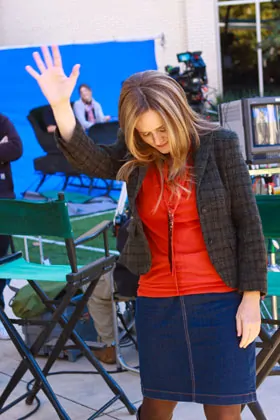 eBay brought a group of Mom Bloggers down to their headquarters for an intensive holiday eBay immersion course! We learned so much we were dizzy by the time we headed over to the set where Samantha Bee was shooting her last episode of eBay's Love to Give holiday campaign of webisodes inspired by the Christmas morning freakout videos on YouTube.
(Samantha is absolutely perfect for this campaign and I love her series of Unwrap Attack webisodes with eBay. It is laugh-out-loud mixed with so-sweet-now-I-am-crying kind of stuff!)
On the set, intimidated and excited as we were, each of us Mom Bloggers got to hop up onto Samantha's sled and sail through the blue screen sky.
It was SO MUCH FUN! And here I am — yes, me with Samantha Bee!!!
Hint: She is the funny one on the right… (well, my left, your right.)
To read more about my incredible time at eBay headquarters and all of their FABULOUS Holiday Promotions, click on over to my post eBay Starts Christmas Early with Samantha Bee.
Written by Janice Croze, co-founder of 5 Minutes for Mom. Talk with me: @5minutesformom and Facebook.com/5minutesformom.
Disclosure: In accordance to the FTC Guidelines and WOMMA Code of Ethics, I am disclosing that my time, travel and accommodations have been compensated by eBay for my participation in the Love to Give campaign. Although I have a material connection to eBay, any publicly stated opinions of eBay remain my own.