This post may contain affiliate links. Read my disclosure policy here.
This St. Patrick's Day, I am going to serve Jackson green Mac n' Cheese with broccoli – thanks to a fun tip I read over at ParentsConnect.

This fun idea wasn't the only thing I learned clicking around ParentsConnect. I jumped from one topic to the next, gleaning information, tips and advice as I hopped. (It is a bit addictive!)
If you are a parent, Nickelodeon's ParentsConnect is for you.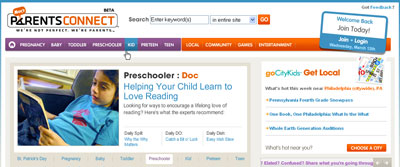 Designed for parents with kids of all ages, from newborns to teens, the site offers features like the GoCityKids local city guide for family activities, personalized profiles that help parents connect with each other, daily tips for all ages and stages, expert parenting advice, and guest celebrity editorials. It will also introduce features, such as a digital multi-media scrapbook and a quick and healthy meal-planner.
Featuring the motto "We're not perfect, we're parents," Nickelodeon's ParentsConnect strives to celebrate the reality of parenthood and make parents' lives easier. Each age-related section on the site provides users with daily content to help them through both large and small parenting challenges. The site provides parents with daily tips, recipes, activities, product recommendations and expert (but nonjudgmental!) parenting info, baby names and their meanings, and family-friendly resources in your area. ParentsConnect also wants you to share your parenting expertise by submitting your own tips, local activities, crafts, recipes, photos, and war stories on the site!
ParentsConnect wants to spread some fun – Nickelodeon style – to our 5 Minutes for Mom readers, (well, our readers' kids actually!)

So here are the giveaway details:
We will have one Grand Prize winner who will receive a Gift Pack that includes:
A Spongebob Grilled Sandwich Maker
An Orange Nickelodeon T-Shirt
A Nickelodeon Hand Bag
A Nickelodeon Spiral Drawing Notebook
And we will have three additional winner who will each receive a Gift Pack that includes:
An Orange Nickelodeon T-Shirt
A Nickelodeon Spiral Drawing Notebook
A Nickelodeon Hand Bag

If you want to win a pack of these Nickelodeon goodies for your kids, just leave a comment at this post. We will announce the winners March 29th. (Open to BOTH Canadian and US shipping addresses.)