This post may contain affiliate links. Read my disclosure policy here.
As parents, one of our favorite parts about the holidays is seeing our children's faces light up as they watch the first snowfall, decorate the Christmas tree, and, of course, open those Christmas presents! But what about the thousands and thousands of children across the world who won't be experiencing that joy of opening presents this Christmas? What are you doing this holiday season to bring a little joy to their Christmas?
I know, I know…we're busy this time of year. We have shopping to do, holiday parties to attend, ornaments to hang. But bringing a little Christmas joy to needy boys and girls around the world will only take a few minutes out of your day!
This year, as the much anticipated film The Chronicles of Narnia: The Voyage of the Dawn Treader< /em> gets ready to release to theaters, Twentieth Century Fox and Walden Media are teaming up with the Samaritan's Purse program, Operation Christmas Child, to bring you Operation Narnia!
Operation Narnia and Operation Christmas Child are teaming up with people like you and me to bring Christmas cheer to more than 8 million needy boys and girls in over 130 countries. And it is so easy to do! Simply fill a shoe box with items that a child might enjoy — toys, stuffed animals, school supplies, hard candy, and hygiene items. The best part is that you can get your whole family involved!!!
My daughter and I decided that we would make a box together this year. She picked whether we would make our box for a girl or a boy and in what age range. She chose a girl ages 2-4 years. Then we made our way to the store where she got to pick out the items to go into our box.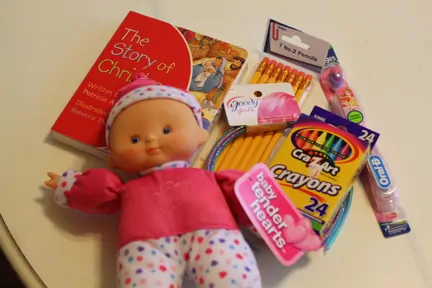 After we packed our shoe box with the goodies, she filled out a little information sheet about herself so the little girl receiving the box would know more about her and then included a Christmas picture that she colored.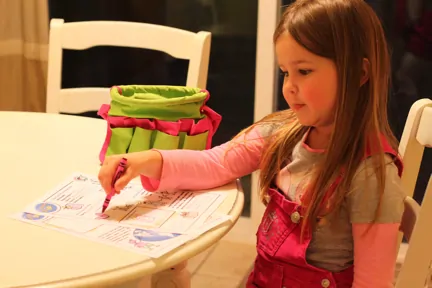 The best part about the Operation Narnia/Operation Christmas Child project is that this was a great learning experience for my 5 year old! We were able to talk about how not every child around the world has presents under their tree and the importance of giving back during this season. After we said a little prayer over our shoe box and for the little girl who would receive our gifts, my little girl joyfully shipped her box off to a child whom she has never even met!
I'm so glad we took a few minutes out of our day to participate in the Operation Narnia project and I would encourage each of you to consider participating as well. Why not make a day of it — take your family to see The Chronicles of Narnia: The Voyage of the Dawn Treader on December 10 and, after the film, head to the store to fill your Operation Narnia shoe box! You can find out all of the details at OperationNarnia.org.