This post may contain affiliate links. Read my disclosure policy here.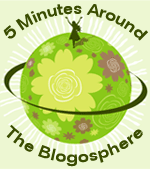 CONTESTS & ANNOUNCEMENTS
First of all, I wanted to let you know that this column will be taking a break on March 23rd due to my family's much needed vacation. It will be the first time for the girls (& me) to be in the snow! Wish this warm-weather girl luck!
This week's Blog Blast, courtesy of The Parent Bloggers Network, is about Save, Share, Simplify. To participate, just publish a post on March 14th discussing how you're saving, sharing, and simplifying in regards to your family. Then email your link to PBN and four random winners will be selected to win either a $50 gift card to giggle or Patagonia.
The Nest Baby is holding a Bump Contest where one lucky pregnant woman could win a trip to Jamaica, a mommy & baby photo shoot, and a Just For Mom gift basket. To enter, just submit a photo of your belly before May 5th and have all your friends vote for you. Stop by the official site for more information.
Michelle of Scribbit is holding her monthly Write Away contest. This time the theme is "The Next Twenty Years". Enter before March 19th and you could win an Alaskan ulu and a cool button to display.
A great way to meet other bloggers in your niche is by participating in blog carnivals. Here are a few that you may be interested in – Carnival of Family Life, Family Funnies, Review Bloggers, Empowering Women, & Mom's Blogging Carnival.
The people at Tangled & True are having a Modern Layette Swap. Basically, if you have a modern/eco-friendly baby item that your child has outgrown, just email Tangled & True with some basic information and they will pair you up with a partner to exchange with. Deadline to sign-up is March 17th.
Overwhelmed With Joy is holding her monthly Pay it Forward Book Exchange. Deadline to participate in her giveaway is March 21st.
BLOG GIVEAWAYS
COOL WEBSITES
MinuteFix – Having computer problems? Looking for someone who can explain things in a language that you can understand? The people at MinuteFix can help. They specialize in helping women and mothers with all their computer questions. To help promote their new service, they're offering free tech support until March 15th. After that it's only $0.99 a minute. The best part is that if they can't fix the problem, you don't have to pay a penny! Now that's customer service!
Outback Steakhouse – Did you know that Outback Steakhouse is celebrating their 20th anniversary? This also means 20 years of their famous Bloomin' Onion! For a limited time only, they're offering special menu items that will satisfy any appetite!
GREAT DEALS
If you would like to have a post on your blog featured in 5 Minutes Around The Blogosphere, please send us an email with the actual link to your post at features5minutesformom at gmail dot com and we'll see if it can be arranged.
Kailani can be found at An Island Life, An Island Review, & Island Baby Boutique.