This post may contain affiliate links. Read my disclosure policy here.
I'm sure you've all realized that the holidays bring on one of, if not the, biggest shopping seasons of the year. But did you know that the holidays also bring on one of the biggest movie seasons of the year as well? There are so many great movies coming out on DVD and even more great movies releasing to theaters. One of the most anticipated movies hitting theaters over the holidays is The Chronicles of Narnia: The Voyage of the Dawn Treader!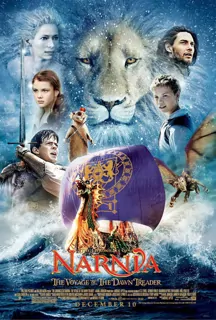 The Chronicles of Narnia: The Voyage of the Dawn Treader, coming to theaters December 10, is the third installment of the Narnia series based on the classic books by C.S. Lewis. And you know what they say…third time's a charm! Yes, the first two films (The Lion, The Witch, and The Wardrobe and Prince Caspian) were amazing, but The Voyage of the Dawn Treader has gone above and beyond my expectations!!!
Earlier this month I had the privilege of joining five other bloggers to attend a special pre-screening of The Chronicles of Narnia: The Voyage of the Dawn Treader in Los Angeles with director Michael Apted. I also had the opportunity to chat with Narnia stars Georgie Henley (Lucy) and Will Poulter (Eustace)!!!
The Film
This time around we find our favorite Narnia brothers and sisters separated. As Peter is at university and Susan is on holiday, the two younger Pevensie siblings, Lucy (Georgie Henley) and Edmund (Skandar Keynes), are stuck visiting a relative near Cambridge in wartime England. As if being separated from their beloved siblings wasn't enough, Lucy and Edmund must deal with their beyond-annoying cousin, Eustace Clarence Scrubb (Will Poulter).
When a mysterious and very Narnia-like painting catches their eye, Lucy, Edmund, and Eustace find themselves "washed" back into the world of Narnia and in the presence of King Caspian (Ben Barnes) and everyone's favorite warrior mouse, Reepicheep (Simon Pegg)!!!
Their adventure unfolds as they sail the seas on the Dawn Treader, searching for the seven Lords, hoping to once again save Narnia. Along the way they encounter an amazing amount of adventure and fight to overcome their own greatest temptations as they travel to mysterious islands and are confronted with magical creatures and sinister enemies! Of course our heros will once again be visited by the all-powerful ruler of Narnia, Aslan the Lion (Liam Neeson)!
This film is absolutely amazing and you will definitely want to put it on your "must-see" list this Christmas! As I said, I was blown away by the film! It was by far my favorite of the Narnia films!!!
The Actors
As if having a sneak preview of the film wasn't enough, we also had the honor of interviewing the lovely Georgie Henley and Will Poulter while in LA. I say "interview" loosely because our time with Georgie and Will felt more like a casual conversation amongst friends, with Georgie teasing Will about his jacket and Will teasing Georgie about her dress…it was evident these two were going to be fun!!!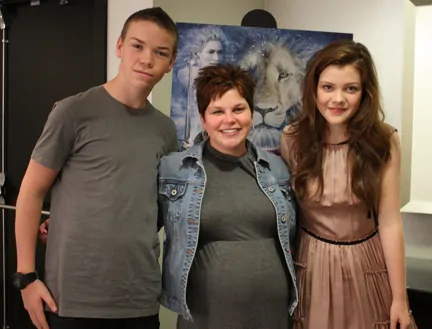 Here are a few insights on the film that the actors shared with us…
Have you gone through any of the same kind of things like in the movie? Not so much jumping through a painting, but as young people do you see your lives kind of parallel in any way?
Georgie: Well, in the Dawn Treader, Lucy goes through tons of insecurities when she has to deal with jealousy and her insecurities in the way she looks as well as dealing with the way people treated her. I believe this is something that all teenage girls encounter at some point. I know it's something that I've encountered already, and it's just a natural experience, a right of passage. I thought that I could relate to her, use my personal experiences, to help the character along a bit. So, yes, I did experience some similarities and, in the end, it helped.
Will: Yes, I agree, that is an important part of the film to point out. It's a cool message where, as Georgie also said, teenage girls in the audience see a strong girl and that's a nice thing for them to be able to relate to in Lucy's character. And I think people who've grown up with the films are going to be able to relate to Georgie's character the whole way through. As she grows up and matures.
Georgie: Also the four main characters as a whole in the Narnia film all have to face temptations in the story which they overcome…I think that's what's really great about the film and I believe that makes it a powerful tool for teenagers. Since they can kind of relate to it a bit, as well as younger children because it's all magical!
Will also shared with us that playing Eustace was…."He was a really fun character I could get my teeth into, though, I hope I'm not too much like him. Sometimes it was quite difficult simply because he is almost in a sort of constant tantrum from the minute he arrives in Narnia until the minute he turns into a dragon!"
And which of the three Narnia films was Georgie's favorite?
Georgie: Well, they're just all so different for me. It's hard to say! In the first film, it was a big pretend game…I didn't really think too much about acting. And then, the second film I was 11 or 12, and it was more of a learning experience. I was ready to learn and soak up everything. And then, the third film, Dawn Treader, was a chance for me to put the many things I'd learned into practice…and hopefully make a better film.
My Narnia weekend was absolutely amazing and I'm so thankful to 20th Century Fox for the opportunity to preview the film, meet two of the loveliest actors, enjoy a relaxing stay at the Sofitel Hotel, and to meet and hang with some great bloggers!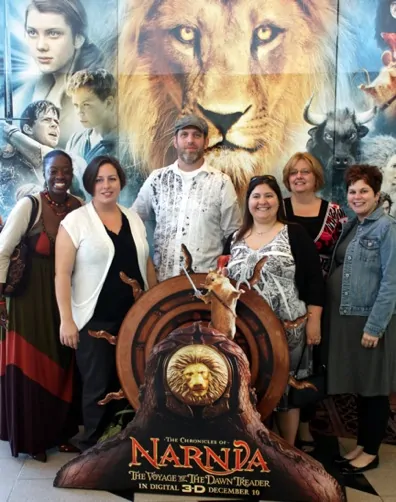 Will Poulter (Eustace), me, Georgie Henley (Lucy)
Don't forget…The Chronicles of Narnia: The Voyage of the Dawn Treader will be in theaters nationwide on December 10 both in Real-D and Digital 3D!!!
This trip and opportunity was provided to me by Twentieth Century Fox. All opinions stated here are my own. Also, thanks to Dina from Big Honcho Media for coordinating this event and for the photos in this post!