This post may contain affiliate links. Read my disclosure policy here.
Walking on Eggshells is a new book by Jane Isay exploring the delicate relationship between adult children and parents. Whether you are the child or the parent, there have probably been times when you felt like you were walking on eggshells in that relationship.
This book is primarily aimed at the parents of adult children, but the children can learn a lot about why we still react so strongly to a parent's unsolicited advice or tone of voice.
The book is divided into chapters with stories from grown children and parents that will strike a chord with many in regards to
distance created by stress or a misunderstanding
the good and the bad of physical distance
surviving the wounds of parental mistakes or children's disappointing choices
the added layer of in-law and step-relationships
Jane Isay is a keen observer of human nature, and her interviews of more than 75 parents, grandparents, and grown children helped her uncover the universal truth that these relationships are difficult for most people. But Isay is not just a detached analyst of events. Because she herself is the parent of grown children, seeking to learn and understand, she shares her personal insights and experiences throughout the book. She also inserts herself into the telling of each person's story, which serves as connective tissue for the book.
Marty and Pete get along best when they are together in Montana. Here's why.

"I've always been very interested in guns, but never had any. But as his place, you can sit out on the front porch and shoot," Marty explains.

"And you love it," I say.

"I love it, and he loves that I love it."

Bingo. If there are words from a parent that characterize a solid relationship, it's that sentence. Here's a father and son whose values are diametrically opposed. But Marty loves sitting on the front porch with his son, shooting guns.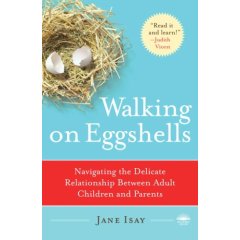 You can find out more about the book and the author at Jane Isay's website. You can also sign up to be interviewed for her next book which explores adult siblings' relationships.
If you'd like to win a copy of Walking on Eggshells for yourself (to possibly share and discuss with your parent or child), leave a comment here. The Reader's Guide provides a great way to explore these issues with your peers, and possibly raise them with your parents or children.
We have up to five copies available. For the first 75 comments we get, we will give out three copies. If we get more than that, we'll draw two more names. The winners will be announced in next week's column.
The winner of The Sky Isn't Visible From Here is #54 Reluctant Housewife.