This post may contain affiliate links. Read my disclosure policy here.
I don't read much light, mindless fiction. I don't look down on it–it's just not my first-pick when it comes to fiction. I know that many of you don't read a lot of my other preferences: memoir, soul-searching fiction, or heart-pumping thrillers.
I didn't dismiss Talk of the Town by Lisa Wingate because it was light fiction. It looked like story that I would enjoy. As I read this novel, the place and the characters stuck with me. I found myself thinking about them, and wanting to get back to the book to find out where the story was going to take them. You can't ask anything more from a novel.
Talk of the Town takes place in Daily, Texas, the small-town home of American Megastar reality show finalist Amber Anderson. Show producer Manadalay Florentino is there trying to set up the surprise reveal, but the townspeople seem to be staying a step ahead of her. She feels like her career is riding on this event, but she is distracted by her fiancee who appears to be MIA and the mysterious out-of-towner, Carter Woods. The story is told alternating chapters from Mandalay's point of view, with that of Daily resident Imogene Doll.
Imogene is a widow with plenty of life left in her. She still works at the local cafe and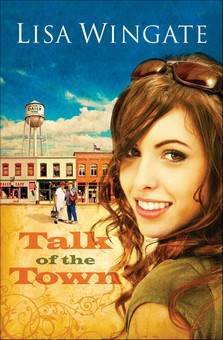 makes time to do an exercise tape with her two friends in the beauty shop/workout room connected to the cafe. She befriends Mandalay and gives her some insider's help on Amber's big reveal.
I read the last several chapters of the book in one sitting, because I had to find out if Amber Anderson was really the sweet gospel-singing innocent that America thought she was, or if she had changed. I needed to know if Carter was as charming as he appeared to be, or if he was up to no good. I wanted to know how Imogene was going to let the changes she had experienced that week change her life for good, and Mandalay–I had to see if Mandalay was going to change her own life for her own good.
There are some compelling questions in the reading guide available for discussion, and you can read an excerpt here.
If you'd like to win a copy, leave a comment on this post. The winner will be announced in next week's column.
The winners of last week's book are announced in a separate post HERE, because we have a bonus interview from the author, so click on over to find out even more about Walking on Eggshells.