This post may contain affiliate links. Read my disclosure policy here.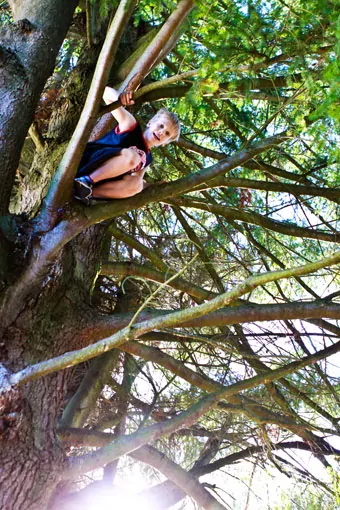 Actually this picture doesn't even begin to show the size of this tree or how high Jackson climbed! Jackson has been climbing trees since he was four and so I was surprisingly calm until he got near the top. Then my blood pressure rose and I insisted he get.down.right.now. (The getting down process took some time! He climbed really high!)
Post a photo on your site, link up and find others… Wordless Wednesday is tons of fun. (And I know it says "wordless" but I just can't bear to not write anything! If I had created it, I probably would have named it something different! LOL)
Here is a fun thumbnail linky…
But if you prefer the old style, you can use this linky:
Thanks to Uisce for creating Wordless Wednesday.

Written by Janice, co-founder of 5 Minutes for Mom
Did you know that Susan and I own two online toy stores where you can find unique toys for Christmas like a pedal car or an inspiring toy kitchen. You know, in case Santa needs any ideas!