This post may contain affiliate links. Read my disclosure policy here.
We pray, we push, we scream, and then we hold our breath until we hear it. Our baby's first cry. That first wail is an answer to our deepest prayer. It is relief. It is hope. It is the future.
We hold our baby close and we promise to love them forever. Eventually they are quiet, sleeping on our chest. We hear their little labored breaths and feel their chest rising and falling. We are in total peace.
UNTIL…
Until those cries come back – again and again. Sometimes we know without a doubt what our baby needs and we immediately respond. But sometimes we are helpless, trying to decipher our infant's desperate cries. We want to help them, to understand them. If only we knew what they were saying.
To imagine that someone could tell us what they were saying – to teach us their language – is almost unbelievable. Isn't a newborn's cry a language without translation?
That was what I thought. Of course, I could tell some difference in my babies' cries. I got to know them and could hear subtle changes. Some cries were angry and desperate. Others were merely letting me know they needed a bit of attention.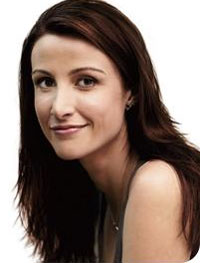 But until I heard Priscilla Dunstan share her breakthrough in infant language, I had never noticed that my babies, and all the babies around me and all over the world, were actually saying words – distinct, predictable words that tell us what they need.

Babies are communicating with us – and now we can understand what they are saying!
"Every newborn communicates from birth to 3 months uses 5 distinct sounds that signal hunger, tiredness, need to burp, lower wind/gas and discomfort. This is regardless of the language their parents speak. It is not a learned language. Rather, it is a natural way for every baby to express their physical needs.

The 'words' that form the basis of what we have called the Dunstan Baby Language, are sounds that are based on baby's physical responses. These are called reflexes. For example, when a baby is hungry it will start to suck, and as sound is added to the reflex, the 'word' for hunger is produced. These are the baby's first communications, which occur before actual crying develops. The sooner the 'word' for hunger is identified the sooner a parent can respond by feeding, resulting in less crying and less discomfort for baby – and for parents..

The Dunstan System will teach you how to tune your ear to the 5 'words', take you through settling solutions, and gives helpful advice for parents. You will also view Priscilla Dunstan in a 'live lesson', teaching new mothers the System – with immediate results." read more
I just wish I had had Priscilla Dunstan's DVDs when I had my son six years ago. What a difference it would have made to me.
In my first few months of being a mother, I was so intimidated by my baby's cries. I wanted him to speak to me clearly and let me know what he needed from me.
When Olivia was just about three months old, I saw Priscilla on Oprah. I was stunned. I quickly threw a video tape in and recorded the show. Then I watched it over and over until I clearly could hear what words I should be listening for.

And it worked. I completely could hear the "words" from Olivia. It is was thrilling!

Now that Olivia is older, I hear them much less. (Babies primarily speak this language between 0-3 months.) But my son still coos to her, "Olivia are you saying 'Neh?' – Are you hungry?" It is so sad to hear the language disappearing now. I LOVED hearing her talk to us in her first language.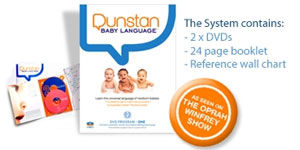 I highly and enthusiastically recommend this DVD set to new parents. What an incredible gift to give to a mother and father – and to their newborn – the gift of understanding babies' first language.
It is incredible!!!
"9 years of observation and intervention research then led to 3 independent international studies, confirming the existence of a universal baby language – the Dunstan Baby Language."
We are giving FIVE of you the Dunstan Baby Language System. Just leave a comment at this post to be entered to win. (We will announce the winners on March 18th.)
If you or someone you love is expecting or has a young infant and you don't win a copy, I highly, highly recommend you buy the Dunstan Baby Language. To learn these five powerful 'words' is priceless!
Dunstan Baby is offering 5 Minutes for Mom readers a 10% discount when you purchase online from their website. The Promotional Reference Code is USDRP.
"The Dunstan System truly empowers parents. Seeing crying from this new perspective – one that translates infant cries into meaningful communication – is a tool that can contribute to the roles of each and every one of us as caregivers. What better way to support new families."

Dr Maureen A. O'Brien
Published Author, Ph.D. in Child Psychology and mother of twin boys.
Director of Education, Dunstan Baby