This post may contain affiliate links. Read my disclosure policy here.
When does your family start decorating for Christmas? Do you get those decorations out the day after Halloween or do you wait until the beginning of December? Despite my strong desire to start decorating as soon as possible, we always wait until just after Thanksgiving to put our tree and decorations up. But that doesn't mean that I haven't been loving all of the Holiday sparkles going up around me at the stores and malls!!!
Earlier this month I had the privilege of traveling to Los Angeles to kick-off the Holiday season with Taubman Centers and the upcoming release of The Chronicles of Narnia: The Voyage of the Dawn Treader!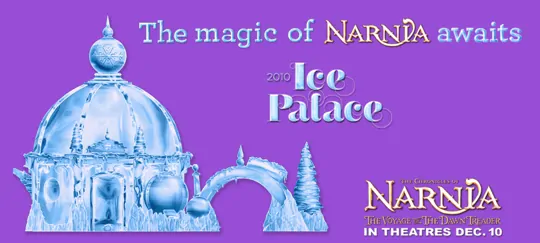 On November 12, Narnia actors Georgie Henley (Lucy Pevensie) and Will Poulter (Eustace Clarence Scrubb) gave us holiday hopefuls a first look at the amazing Narnia Ice Palace, along with their much anticipated film, at the Beverly Center in Los Angeles. The event was streamed live to 15 other Taubman shopping centers across the country who are also donning their very own Ice Palaces!
The event was made complete with school children (and bloggers) waving LED wands and singing Christmas songs as each of the Ice Palaces coast to coast were simultaneously illuminated. Of course Georgie and Will also brought in a very special guest of their own…the one and only Santa Claus!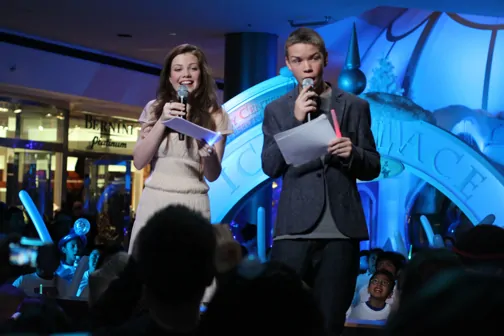 The Ice Palaces are absolutely amazing and beautiful! Shoppers visiting any of the 16 Taubman shopping centers nationwide will be able to experience the enchantment of The Chronicles of Narnia: The Voyage of the Dawn Treader and a little holiday magic from now until December 24. The color changing 30-foot Ice Palace, designed by Global Experience Specialties, will not only leave you in awe by it's magnificent size, but you will also be amazed at how each piece looks like it was carved from actual ice.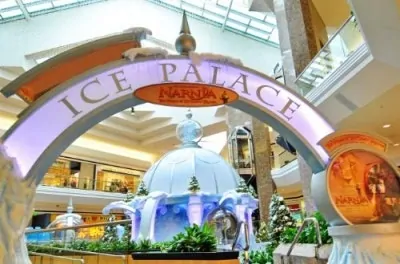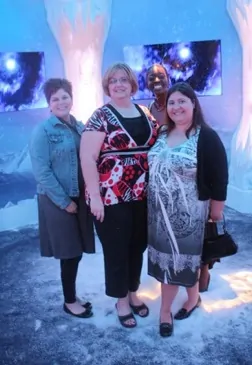 Your kids will love the many globes featuring life-like characters and scenes from the movie and will not be able to get enough of the center dome where they will be greeted with falling snow! It's like being in a life size snow-globe!!!
The whole experience is amazing! And, to make the experience complete, guests will take home a piece of their Ice Palace adventure with a photo of the Ice Palace Throne. Of course Santa Claus will also be on hand for even more photo opportunities!
If you have a Taubman shopping center near you, you will definitely want to take advantage of this rare holiday opportunity! Also, don't forget to check out The Chronicles of Narnia: The Voyage of the Dawn Treader when it hits theaters December 10!!!
The Ice Palace experience is featured at the following Taubman shopping centers:

California

Beverly Center (Lost Angeles)
Sunvalley (Concord)

Colorado

Cherry Creek (Denver)

Connecticut

Westfarms (Farmington)

Florida

Dolphin Mall (Miami)
International Plaza (Tampa)
The Mall at Wellington Green (Wellington)

Illinois

Woodfield Mall (Schaumburg)

Michigan

Fairlane Town Center (Dearborn)
Great Lakes Crossing Outlets (Auburn Hills)
Twelve Oaks (Novi)

New Jersey

The Mall at Short Hills (Short Hills)

North Carolina

Northlake (Charlotte)

Texas

The Shops at Willow Bend (Plano)

Virginia

Fair Oaks Mall (Fairfax)
MacArthur Center (Norfolk)
For more information about the Ice Palace event at Taubman shopping centers, visit Taubman.com. And for more information about The Chronicles of Narnia: The Voyage of the Dawn Treader coming to theaters in 3D December 10, visit Narnia.com or on Facebook.com/Narnia.

Thank you to Taubman Centers and Twentieth Century Fox for inviting me to this amazing event!