This post may contain affiliate links. Read my disclosure policy here.
As I waited and waited for over three years to become pregnant, I imagined many moments with my children. But as a not-yet-mom, I didn't even know how many enchanted moments were to come as I introduced my girls to beloved, magical characters.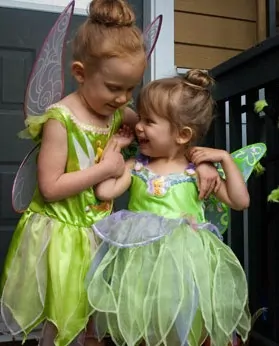 I've been taking it slowly and enjoying the drawn out love that my girls lavish upon their new favorite friends.
For the last couple of months, we've been all about Tinkerbell. My girls love all things princess and pretty, but I was extra delighted when they fell in love with Tinkerbell as I think she's a cute and clever character worthy of my girls' adoration.
My five year old Julia has always been extremely sensitive to any "scary" scenes in movies, so the latest Tinkerbell movie was one of the first movies that I've bought for her.
Because of Julia's extreme sensitivity to any movie scene with a "bad guy", I'm careful to watch previews closely and ensure it's safe for her to see.
With all the recent talk of the release of Toy Story 3 on DVD, I decided to watch some previews and clips on YouTube. Now I'm excited! It looks like such a fun movie and I think my girls will fall in love with the characters.
But as we all know, when kids fall in love with magical characters on screen, they then fall in love with toys that must be brought to life magically with the power of BATTERIES!!!
Yes… again, it all comes back to batteries.
Kids + Toys = Lots of Batteries
Thank goodness for Rayovac's affordable and long lasting batteries.
(Since Disney is the ultimate creator of magical toys that come to life, I'd say Rayovac is rather clever and fortunate to be the Official Battery of Walt Disney Theme Parks.)
Let Rayovac Mail You Money!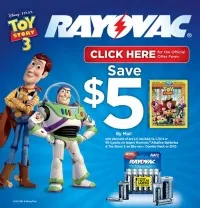 Here's a fun rebate for you…
Save $5 by mail with the purchase of (2) AA/AAA-12 packs, C/D-4 packs or 9V-2 packs (or larger) of Rayovac Alkaline batteries and Toy Story 3 on Blu-Ray or DVD.
How it works:
Purchase (2) AA/AAA-12 packs, C/D-4 packs or 9V-2 packs (or larger) of Rayovac Alkaline Batteries by 12/31/10
Purchase (1) Toy Story 3 on Blu-Ray or DVD by 12/31/10
Complete the back-by-mail form found here.
Mail the form, product UPC labels and store receipt to the on-form address by 1/15/11 (see form for complete details)
Want More Coupons?
Find more information on Rayovac promotions and coupons here: http://www.rayovac.com/Promotions.aspx
Video Clip Fun
Thinking about the joy that Disney's magical characters bring to my children, I replayed this fun video of Janice and I with our girls at Walt Disney World.
And since we're talking about Toy Story, here's a video where Janice and I meet Mr. Potato Head in person and hang out in Andy's room on the set of Toy Story The Musical.
You can watch more of our Disney videos at Walt Disney World and on board a Disney Cruise
So Tell Us…
Have your kids seen Toy Story 3 yet? What are their favorite Disney characters? Do you go through a ton of batteries for their toys?
Written by Susan, co-founder of the Mom Blog, 5 Minutes for Mom
Tweet with us @5minutesformom
Disclosure: We are Rayovac Sponsored Bloggers