This post may contain affiliate links. Read my disclosure policy here.
Julia has a favorite new video.
And it's a favorite of mine too, because instead of her sitting on the couch zoning out in front of a cartoon, she's enjoying an interactive dance class, "Pretend with Miss Kim," where she's engaging her imagination, developing her coordination and burning off energy.
She couldn't look cuter. Dressed in her oh-so-adorable tutu from Tutu Fantasy, Julia dances about singing "Mr. Sun, Sun, Mr. Golden Sun, please come shine on me."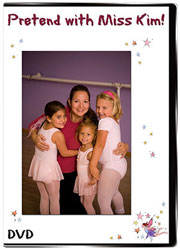 Kim Black, better known as "Miss Kim," takes children aged 18 months to 5 years old on an imaginary journey through creative movement with music and dance, in her first DVD, "Pretend with Miss Kim."
Miss Kim has captured children's hearts for years teaching tap and ballet. She began teaching tap, jazz, and ballet when she was 16 years old and has been teaching ever since. For many years now she has focused solely on younger students:

"My approach to teaching young dancers is through imagination. I love using imagination, creating stories, and watching young children fall in love with learning to dance. My experience as a mother to four wonderful children has helped me understand how to relate to the preschool aged youngsters."
"Pretend with Miss Kim" is available for $10 from her website: www.MissKimDance.com. To see a short preview of the DVD, click over to her site.
If you want to win a copy for a little ballerina in your life, just leave a comment here. We have five copies to giveaway. We will announce the winners on March 4th. (This contest is open to both Canadian and US shipping addresses.)