This post may contain affiliate links. Read my disclosure policy here.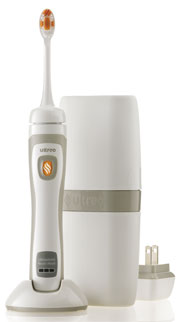 Activated by ultrasound…
Both Susan and I have receding gum lines.
Susan even had to have gum surgery and said it ranked in her Top 5 Horrible Experiences! She never wants to go through that torture again — and neither do I.
Understandably, we are both always trying to look after our teeth and gums as well as we can.
So when we heard about Ultreo™, we both wanted to try it out. (But Susan graciously let me review it. What a nice sister!)
Now I know I am in danger of sounding like an infomercial right now – but after just one brushing, my teeth were so smooth and clean I literally laughed out loud! I couldn't believe it. They felt even cleaner than after a polishing at the dentist.
I phoned Susan and told her that she simply had to get one too. This is a seriously exciting toothbrush!
Ultreo represents the first major innovation in the power toothbrush category in 15 years. It is the first power toothbrush to combine the forces of ultrasound waveguide technology with precisely tuned sonic bristle action.
How Ultreo Works:
Precisely tuned sonic bristle action creates bubbles and cleans upon contact
Ultrasound is channeled into the bubbles through a proprietary ultrasound waveguide
The bubbles are activated by the ultrasound and transformed into pulsating bubbles for an incredible, long-lasting feeling of clean.
Clinical studies prove Ultreo™ removes up to 95 percent of hard-to-reach plaque in the first minute of brushing, reduces gingivitis and naturally removes stains for whiter teeth. Also, in a recent study 95% of respondents said their teeth felt clean and smooth after brushing and 75% said they preferred Ultreo™ to the power toothbrush they were using before the study.
Inspired by bubbles…
Dr. Pierre Mourad, a physicist and research associate professor in the University of Washington Department of Neurological Surgery, works to find medical applications for ultrasound and its ability to transform bubbles into miniature sources of mechanical energy.
Inspired by bubbles while giving his two children a bubble bath, cleaning his car and doing the dishes, one day Dr. Mourad had an idea, "What would happen if you applied ultrasound technology to a power toothbrush?"
With this revolutionary idea, in 2003, Dr. Mourad partnered with Jack Gallagher, founder of Ultreo, Inc. and former president of Optiva Corporation (developers of Sonicare®) to create this extraordinary toothbrush that uses ultrasound to transform ordinary bubbles into pulsating bubbles that remove plaque bacteria and produce a deep, long-lasting feeling of clean.
I think it is one fabulous idea and I love using it.
Because Ultreo is a new product, it is not available yet at most major drugstores. But you can buy it online at:
www.ultreo.com
www.amazon.com
www.drugstore.com
www.sharperimage.com
www.hammacher.com

If you want a chance to win one – just leave a comment here at this post. We will announce the winner March 7th. (This contest is only open to US shipping addresses.)