This post may contain affiliate links. Read my disclosure policy here.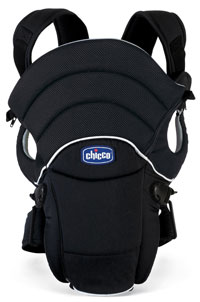 Babies love to be carried!
And we parents can definitely use some time with our hands free. So Chicco has added to the world of baby carriers with their You & Me Deluxe Infant Carrier.
The You & Me allows baby to face in for extra closeness, or out for exploring. And, in either position, baby stays snuggled close to your heart!
You can enter to win one here at 5 Minutes for Mom. Just leave a comment at this post. (This contest includes both Canadian and US shipping addresses! We will announce the winner on February 29th.)
The You & Me Deluxe Infant Carrier – Two-Position Ergonomic Baby Carrier


Ergonomic fit: developed in collaboration with the International Ergonomics Association for maximum comfort for parent and baby
Easily adjusts to fit taller and shorter parents – padded shoulders and waist band are wide and adjustable
High tech fabric is breathable and prevents sweating
Recommended for infants 7-25 lbs
Retail price is $99.99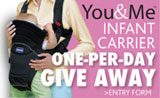 Chicco is also giving away one of their You & Me Deluxe Infant Carriers every day starting on February 14, and ending on February 29.
No purchase is necessary, you just need to visit the site and fill out a brief survey to enter their contest. (Their contest is only open to US residents.)
So, remember to enter here at 5 Minutes for Mom with a comment on this post, and then click over to Chicco to enter their daily giveaway as well!
Good Luck! 🙂