This post may contain affiliate links. Read my disclosure policy here.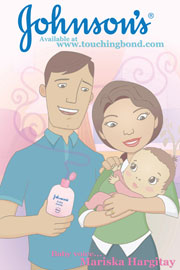 Emmy award-winning actress Mariska Hargitay (NBC's "Law & Order: SVU") has a fun new online project and, to kick it off, she chats with 5 Minutes for Mom about life as a mom.
In celebration of Johnson's® Baby Pink Lotion, (oh – I just love that fabulous, iconic scent,) Johnson's has teamed up with Mariska for some online animation fun. They have created a 3 part series of original cartoon shorts that focus on the importance of a mother's touch (baby massage, etc.) in the mother/child bonding experience. Mariska is the voice of the baby in the webisodes. The first of the three webisodes debuts today at Johnson's site www.touchingbond.com. Click over and check it out. You can also view an interview with Mariska about getting into character.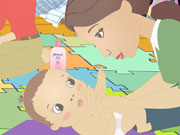 I have done baby massages with both of my children as a part of their bath and bedtime routines. My babies love it as much as I do – and it is so wonderful when my baby's skin is super soft from the lotion.
So when Johnson's asked us if we would let you all know about their work to promote the benefits of a mother's touch, we said sure! Research shows that a mother's loving touch, provided in a relaxed and comfortable atmosphere, is beneficial to a baby's health and happiness for years to come. It is always nice to hear that research backs up our "mother's instincts!"
And for our own Johnson's celebration, Johnson's® is giving one of you a gorgeous "Johnson's® Baby Bonding Gift Basket" with Pink Lotion and a beautiful cashmere wrap. To help you relax and unwind, the basket also has a little something just for moms—a set of Johnson's® Melt Away Stress products from the award-winning Johnson's® For You skincare line.

But first – let's chat with fellow mom, Mariska Hargitay:
Janice: As a mom, my favorite time of day is bedtime – I just love the special routines I have with my children, especially bath time and baby massage with my infant. Every night, after I tuck my six year old in bed, I bathe my baby Olivia and give her a massage. Then we snuggle up in my bed for her last feed of the night. What is your favorite time of day with your son?
Mariska: I agree with you, bedtime is so special. But other parts of the day are great, too. For example, can you believe the kind of energy that babies have when they greet they day!? Sure, I'd give anything for another twenty minutes of sleep, but that kind of joy in the morning is truly a magnificent thing to experience.
Janice: Both of my children have loved their "baby massages." It seemed to be my son's, and now my daughter's, favorite time of day as well as mine. What do you think of the growing trend of baby massage?
Mariska: I think if you asked the babies that question, you'd get a lot of very happy cooing and gurgling, which would translate loosely into "Thumbs up on the baby massage trend, mom." And they're pretty smart about these things!
Janice: What is it about the Johnson's Baby Pink Lotion scent that you like?
Mariska: I think if the feeling of "cozy" had a smell, Johnson's Baby Pink Lotion would be it.
Janice: You have such demanding hours for SVU – you mention on your website that you work eighty hours a week! – Are you able to bring your son to work with you? How do you manage to balance your work hours and your family life?
Mariska: You'd probably be hard-pressed to find a mom who would say she's mastered the family/work balance. And I'm right in there with all the other moms, trying to figure it out. I was really fortunate in that I was able to bring my son to work with me. He loved it. Now that he's a little older, that will be changing. Or maybe Benson and Stabler are just going to have to get a new little partner.
Janice: Do you ever feel guilty for being a working mom? Do you ever feel like just packing up your son and moving to Italy?
Mariska: Hey, I've felt like packing up and moving to Italy my entire life. So don't be surprised if you see me on "SVU: Florence". But do I feel guilty about being a working mom? No. I certainly feel sad when I'm on set and I know that things are happening at home that I'd love to be a part of, but it makes the time I spend at home that much sweeter.
To enter to win the fabulous Johnson's® "Baby Bonding Gift Basket" that includes Pink Lotion, a cashmere wrap and a set of Johnson's® Melt Away Stress products, just leave a comment at this post. In your comments feel free to share your favorite bonding times with your children.
And don't forget to click over and watch the cute little animated shorts at www.touchingbond.com. The first one debuted today, February 13th and there are two more to come.
This contest is only open to US shipping addresses. We will announce the winner on February 26th, 2008.