This post may contain affiliate links. Read my disclosure policy here.
Valentine's Day is coming, so that means…
It is time for Valentine's cards!
Do your kids' classes have Valentine's card exchanges?
Jackson's class does, so today's tackle was to get those cards done! Well – started at least. I figured I would break the job into two days. Jackson is a very active six year old boy, so sitting still to write on twenty-one cards was a bit too much after school.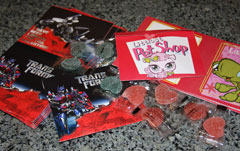 We did eleven today and we will do the other ten tomorrow. And even that was quite a tackle. Doing "table work" is not my son's forte. He would much rather be running around playing.
I would love to be able to show off some beautiful handmade Valentine's. But I decided to simplify this tackle with these Hasbro Valentine's cards.
We used Transformer cards for the boys in the class and Littlest Pet Shop for the girls. (Thanks to Hasbro for sending us them to try out.) I like these kids' Valentine's because the pack comes with a gummy candy heart to go with each card. It is super cute – a heart and a little folded card fit inside the envelope, sealed with a sticker heart. All Jackson had to do was write the child's name on the envelope and sign his name on the card. Considering we had twenty one cards to do, I figured that was enough for Jackson to tackle.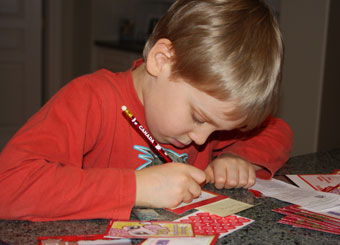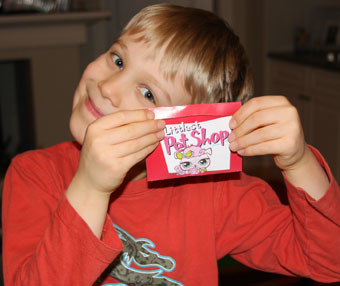 Tomorrow we will have to finish off this tackle. And then Jackson will be ready for Valentine's Day. 🙂
What are you tackling?