This post may contain affiliate links. Read my disclosure policy here.
Yesterday was a beautiful sunny day, but February can be dreary, cold, snowy, rainy or all of the above. Long dark days of inclement weather, sometimes even school cancellations, can leave a parent wondering what to do to fill that time. Today I will offer some delightful suggestions of books that can help fill your child's day with color.
In A Day with No Crayons by Elizabeth Rusch, six-year-old Liza loses the privilege of playing with her favorite plaything

–her crayons–after making the wall her canvas. At first, she's bereft, but throughout her day she discovers a world of colors that is all around her. Both parents and children will enjoy the creative illustrations and simple evocative text.
123 I can Paint! gives instruction on techniques, suggestions about what to use for painting tools (toothbrushes and cotton swabs along with the more traditional brushes and sponges), as well as teaching about elementary principles of color. Then Irene Luxbacher ties all of these elements together as she gives easy suggestions on how to create your own art using these concepts. The teaching in this book will whet the appetite of your young artist, or build on the experience of an older child.
123 I Can Sculpt! gives wonderful ideas for going beyond Play-Doh projects.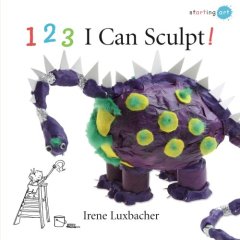 These projects are accessible for preschoolers on up. An older child could easily complete the projects on her own, and they aren't too complicated for a preschooler to complete with a little help.
We will have three winners who will each receive one of these books by Irene Luxbacher: 123 I can Paint! 123 I Can Draw! and 123 I Can Make Prints! from Kids Can Press. If you have a preference, let me know in the comment section.
Come back next week to see if you won.