This post may contain affiliate links. Read my disclosure policy here.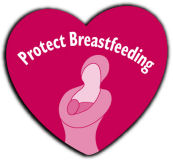 Gina's timely comments about nursing her baby Liam reminded me that this is World Breastfeeding Week 2006 –
Aug 1 – 7th.
What a great reason for us all to celebrate the gift of nursing.
Whether you're currently nursing or you have in the past, join us in celebration.
Tell us your story…
You can answer in the comments or on your own blog and give us the link.
Did you nurse your baby(s) and for how long?
What was your favourite aspect of nursing?
Did you ever get bitten?
What was the hardest part of weaning?
Do you have any advice to share with moms about nursing and/or weaning?
I'll get us started…
By the way, this is Susan here… as I mentioned yesterday, Janice is away and I'm filling in for her.
I have one baby (Julia) who technically is no longer a baby. She is 15 months old and I'm still nursing her. I plan to continue for a few more months. In the photo below she is only a couple of weeks old.
My favourite part of nursing is the joy it brings Julia and me. It feels so wonderful to be snuggled together as she happily drinks and slips off to sleep. I never anticipated enjoying breastfeeding. I honestly only did it at first because it was the healthy choice. Now I'm so thankful for this precious time and I just don't want it to end.
Yes! I have been bitten several times. The other night she chomped down and then laughed with delight. I couldn't believe it. She did it twice in a row, and then thankfully forgot about her new game and got down to business drinking.
I'm scared to death of weaning. My little girl is a cosleeper, and I just do not understand how I am supposed to wean her. I feel like she'll wake for her midnight snack forever. I'm welcome to advice from other cosleeping moms.
My only advice to nursing moms is if you have trouble with milk supply, seek help and don't give up. I had trouble making enough milk in the beginning, but it was easily solved within a couple of weeks from a supplement given to me by my doctor.