This post may contain affiliate links. Read my disclosure policy here.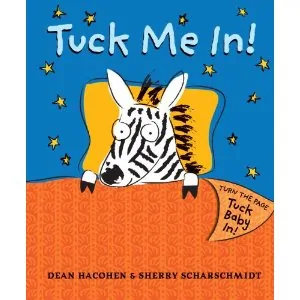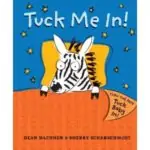 Picture books for very young children need a few characteristics to make kids want to turn their pages- attractive illustrations and basic story lines are at the top of that list. Dean Hacohen and Sherry Scharschmidt's new book, Tuck Me In!, has both of these qualities along with one additional cute feature that has made this a much adored book by my own youngest children.
The bug-eyed animals who are ready for bed on each page of Tuck Me In! are cute with their simple lines and soft colors. Each is already lying atop his or her pillow, ready to be tucked in, which child readers can do by flipping the alternate half-pages that also function as different-patterned blankets for each animal! Familiar animals are here, such as Baby Pig and Baby Zebra, and they are joined by their more exotic brethren like Baby Peacock and Baby Hedgehog. The story concludes in a perfect manner for reading this as a bedtime book.
The text is repetitive and memorable, making this a wonderful book for pre-readers and children first learning to read independently. Parents will enjoy engaging their children in the reading process with Tuck Me In!, just as I do!
We're pleased to be able to offer one copy of Tuck Me In! in this week's giveaway! Just leave a comment here to be entered, U.S. and Canada residents only, please. We'll announce a winner in this column on 11/22.
5 Minutes for Books staff reviewer Dawn loves being immersed in the world of picture books with her children! Their adventures, both bookish and other, are chronicled on her blog, my thoughts exactly.