This post may contain affiliate links. Read my disclosure policy here.
I am terrible at getting out Thank You cards
In fact, those who know me – and should get thank you cards from me – know that I rarely ever get them done and mailed. And if I do actually tackle the task, it is months over due.
It is not that I don't appreciate people or want to say thank you. I love to thank people. I just can't seem to get organized enough to get thank you cards completed and mailed.
(But actually, I am a firm believer that the best baby gift you can give at a shower is to tell the new mother NOT to send you a thank you card. I mean come on – do we really want our exhausted new mothers worrying about getting out thank you cards?!? Do you want to help me start the movement to end thank you cards from new mothers?)
And in case you are wondering – no I have not done thank you cards for all of Olivia's baby gifts. I feel terrible about it. But I just have been so overwhelmed trying to keep my sanity as it is. (You know what is funny – I made all Susan's thank you cards when Julia was born. But back then I had a bit more time on my hands! I love to make cards, I just don't have the time anymore.)

And to those of you who came to our cyber shower – thank you so much for attending! I hope you won some fabulous door prizes. And I am so sorry we haven't sent you any thank you cards for attending or for your gifts.
Which brings me back to my point – my friends at my real life shower are probably NOT surprised that they haven't received any thank you cards from me.
I did give thank you cards and gifts to my shower hosts at the party – I really do love to thank people. As I said, I just can't seem to get the mailing a card thing down. Those steps of finding addresses, envelopes and stamps and then mailing them – well it is just proves to be too much for this procrastinator.
Yes, I should send e-cards. I need to do that! But again, I need to find email addresses, press send… wow, I really am a horrific procrastinator!
But there are a few thank you cards for Christmas gifts that I really do need to send. Plus – I was so disorganized that I didn't send out any Christmas pictures of Olivia and Jackson either. So, tonight, I thought I would whip up a few simple cards with Christmas photos of Olivia and Jackson. Yes, it is a little strange sending Christmas pictures in February. But I love the picture, so I am doing it anyway!
So – here is my tackle mid-way. Let's just hope I do find my way back to it and I actually get them finished, written, addressed, stamped and mailed!
I will update you on that next week. (I need that accountability!)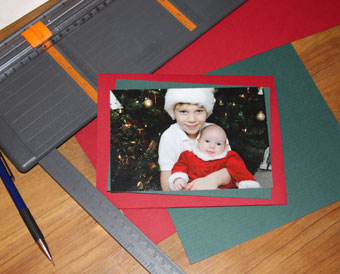 So what are you tackling?