This post may contain affiliate links. Read my disclosure policy here.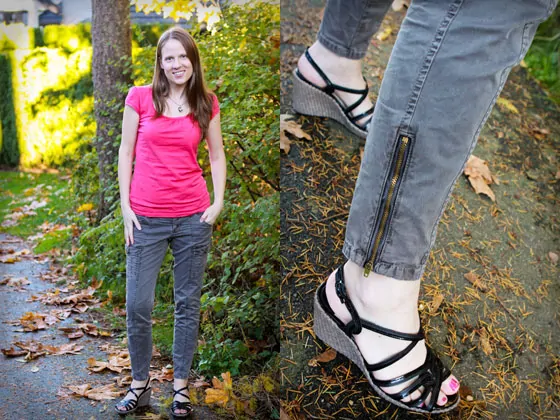 In the 80's, I wore tapered pants. In the 90's I was "enlightened" and converted to boot cut jeans and looked back in horror at the tight legged jeans I once wore.
In the last decade, when tapered jeans reappeared with a new name, "skinny jeans," I was shocked. Hadn't we realized the error of our ways??? Did this mean that I had to leave my beloved boot-cut styles?
But fortunately this time, the trend didn't kick out the other styles.
No, instead of telling us that we needed to throw out our boot-cut jeans and move to a "new" trend, the style-makers and clothing manufacturers did something smarter! They told us that all of the styles are cool — whatever works for YOU! And, even better, you can own and wear them all!
So, even though I still can't quite believe it, I love these fabulous Women's Ankle-Zip Skinny "Citizen Surplus" Cargos that Old Navy sent Susan and me to check out. Old Navy Skinny Cargos are snug and skinny and they even have zippers at the ankle — almost makes me feel like I am back in high school!
But most of all, I love that I can wear WHATEVER cut I want! I don't have to abandon one style in the pursuit of being fashionable!
It is like fashion has evolved.
YOUR TURN: In what cuts do you feel most comfortable? Have you tried out any "skinny" styles yet?
Written by 5 Minutes for Mom co-founder Janice.
You get our feed, right?
Please Note: Old Navy sent Susan and me each a pair of their Skinny Cargo jeans as well as a $100 gift card to provide feedback about Old Navy. I was not required to post here at 5 Minutes for Mom, but I wanted to share about these fabulous skinny cargos. My opinions are always 100% my own!