This post may contain affiliate links. Read my disclosure policy here.
When I picked up Unlimiting God, the subtitle made me a bit uneasy: increasing your capacity to experience the divine. It seemed a little mystical to me, and in the expression of my faith, I'm a bit practical–probably a bit too practical. But I noted that it was written by Richard Blackaby, and I thought, "Richard Blackaby–I know him. Experiencing God. He's not too 'out there.'" As soon as I read the first chapter I realized that Richard Blackaby is not Henry Blackaby, but his son. He did in fact team with his father to write Experiencing God Day by Day, but had nothing to do with the book I associated with the Blackaby name.
The message of Unlimiting God is simple. We limit God by neglecting His word, losing the joy of worship and fellowship with Him, letting the pressure and busyness of life crowd it out.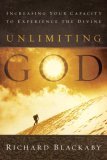 Blackaby begins the book by reminding us that if we are far from God or experiencing limited power in our lives, it is always our fault. We are too easily satisfied with spiritual mediocrity.
The questions for reflection included at the end of each chapter prod the reader to move from, "Yes, I've noticed that in my life," to "What can I do to change that?" which causes life-changing application, as opposed to feeble nods of recognition. Throughout Blackaby walks that fine of convicting the reader without inflicting her with discouraging guilt.
Do you want to go deeper in your walk with God? Do you want to experience more joy and satisfaction? Do you want to be used by God to execute His plans? If your answer is "yes," or "I don't know how," or even "maybe," do yourself a favor and read this book.
If you would like to win one of three copies (to ship to U.S. or Canadian addresses), please leave a comment here. Don't forget to check back next week to see if you're one of the winners.
The winner of last week's book, Just Tell Me What to Say,

is #275 Kam A.

To find out more about the author or the book, visit her website, JustTellMeWhattoSay.com or Collins' Gather site.