This post may contain affiliate links. Read my disclosure policy here.
Years ago, I took a CPR class for work. I even had a little card in my wallet that said I knew how to perform CPR.
But, if an emergency happened and I suddenly had to recall that information from the recesses of my brain, I would be in trouble. I am sure panic would take over and I would completely forget what to do.
And I know I am not alone!
In fact, this is the very reason two Arizona moms, Chris Stevens and Melissa Weisberg, developed, Safety Magnets.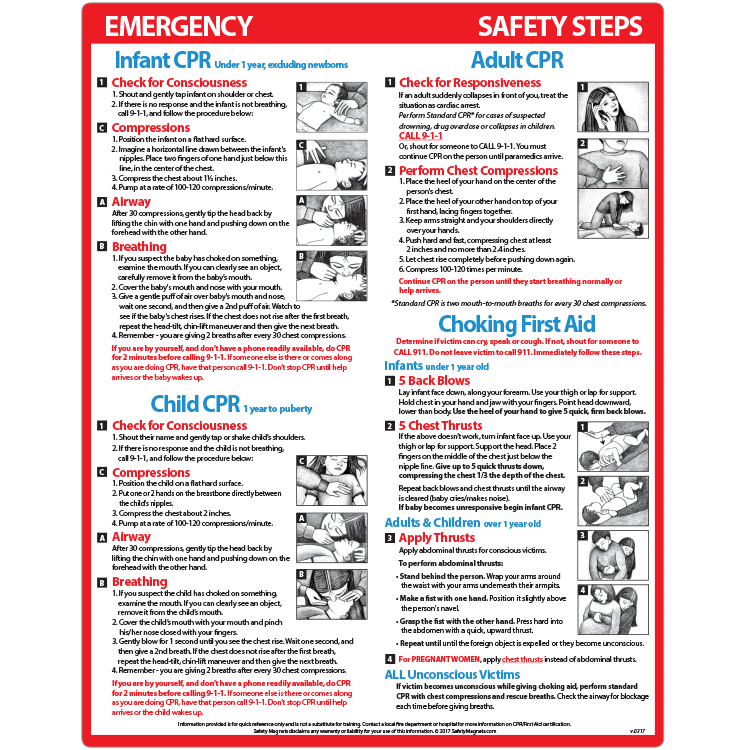 While there is an abundance of first aid information on the web, in books, and from other resources, in an emergency, you need help fast. When an emergency happens, most people don't have time to find that often misplaced first aid book. What you need is a convenient source of accurate information that everyone in the household can easily locate in an emergency. What better place for that information than a magnet on your refrigerator or inside your medicine cabinet?
Safety Magnets are 5″ x 7″ refrigerator magnets that list first aid steps on what to do in common medical emergencies. They are available in 5 different magnets:
Child CPR
Infant CPR
Infant Choking
Infant / Child / Adult Choking
Poisoning / Burns
As well, Safety Magnets come in a fantastic 8 1/2 x 11″ magnetic memo board with safety steps for:
Infant CPR
Child CPR
Iinfant / Child / Adult Choking
This version has a write-on/wipe-off wet-erase marker with a convenient area to write your important and emergency phone numbers.
Safety Magnets are designed with fund raising and company promotion in mind.
These unique magnets are the perfect way to raise money for school, teams, church trips etc. No more fattening chocolates or cookie dough to sell – instead your fundrasing can be centered around a healthy, life saving product.
And instead of putting your company logo on a calendar or notepad, you can use Safety Magnets to continually keep your name at the forefront of your customers minds.
I personally love the Magnetic Memo Board which includes Infant CPR, Child CPR, Infant / Child / Adult Choking and a spot for emergency numbers. If I am out and my babysitter needs emergency information quickly, this is what I want on my fridge.