This post may contain affiliate links. Read my disclosure policy here.
Door-to-door the costumed workers go, filling up pillowcases, tote bags, plastic pumpkin baskets…What will they do with the Halloween Candy?! It is so much!
It doesn't matter that their loot is weighing them down, they are determined — more, more, more. Must.Get.More.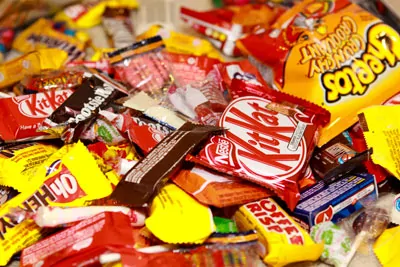 And then they come home and dump their bounty on the living room floor. Candy spills everywhere and we parents immediately begin calculating how many cavities and sugar crashes the piles represent.
We know we need to get rid of it. They simply cannot, well should not, eat it all.
So we, as responsible parents, help them out — one candy bar at a time.
But, after about 48 hours of pilfering their treat sacs, we realize this is not a wise move. We ALL need to get rid of this candy — and fast!
So WHAT can we do with all that Halloween candy?!?
Have a "buy back" with your kids if they really don't want to part with their hard-earned candy. Offer your children cash or other rewards in exchange for their candy.
Put some candy away for baking cookies or decorating gingerbread houses during the holidays. You can always freeze some to keep for baking in the New Year too.
Donate it to the troops — those men and women really deserve some treats!!! (And I have a feeling they have a little bit more physical activity to burn it off than I do!


Donate Halloween Candy to the Troops:
Operation Gratitude welcomes everyone's excess Halloween candy. Please deliver or ship BY DECEMBER 3 to:
Operation Gratitude/California Army National Guard
17330 Victory Boulevard
Van Nuys, CA 91406

And if all else fails, and you just REALLY want a sweet treat — indulge by crushing candy bars into vanilla ice cream. Just make sure the ice cream is light or non-fat. I mean, we really do need to be responsible! **wink wink**
Written by Janice, co-founder of 5 Minutes for Mom
Did you know that Susan and I own two online toy stores where you can find unique toys for Christmas like a pedal car or an inspiring toy kitchen. You know, in case Santa needs any ideas!