This post may contain affiliate links. Read my disclosure policy here.
For those of you involved in the blogging community, you know how wonderful it is to connect with others and read their stories. You may have heard about Capessa, a new network for women. They focus on real women giving other real women advice through personal experience. There are blogs, forums, and chats on topics that are of interest to all women.
Capessa wants to award one of our readers $100 just for checking them out, so read on!
One of the unique features on Capessa are the inspiring videos. Here's one to which many of us (me!) can relate:
How Clearing the Clutter Helped Me Enjoy My Family Again
They have also teamed up with Pantene to help make women's wishes come true.
Enter the "Beautiful Wishes" contest for a chance to have your wishes granted! Capessa, a new online female community plays "Genie in a Bottle", along with hair care company Pantene, by making dreams a reality for women everywhere.Capessa readers are invited to share their experiences and submit their ultimate wish list. Entrants can wish for themselves, their loved ones, even their own communities. For every Wish made, $1 will be donated on behalf of the wish-maker to a Pantene charity. One lucky Georgia woman has already had her wish granted, and in February another Capessa reader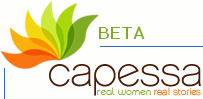 will get her opportunity, as chosen by The Pantene "Beautiful Wishes" panel of judges. Entrants can also take a peek at over 8,000 other wish lists from all across the country.One of our readers will win a $100 American Express Gift Certificate simply for checking out Capessa. Just click on over, and leave a comment here telling which of the content areas look most interesting to you. If you've already been exploring Capessa, tell us what you've enjoyed about the site.
So, go check it out, then leave a comment. We'll draw a winner on February 6.