This post may contain affiliate links. Read my disclosure policy here.
A Sweet Little Boutique…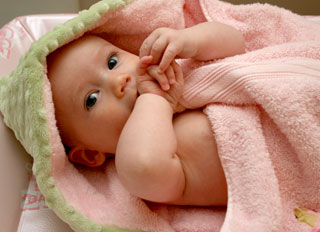 Mom-owned store, Alex Casey Baby, is wrapping up little ones in full-sized, hooded towels. And each one of these cozy creations is personalized with your child's name.
Olivia loves hers – isn't the green minky hood just too sweet? And because these personalized towels are full sized – she will be able to use it for years to come.
Named after baby Alexandra Casey, this online shop is a delight to visit with a variety of products perfect for gift-giving. The Personalized & Who's Its category includes these exclusive, personalized hooded towels, as well as frames, wall hangings and albums. If you want to give a new baby a special gift, definitely check out their personalized line.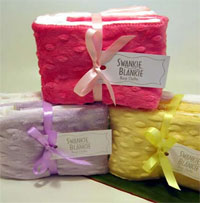 Alex Casey Baby also has blankets, burp cloths, diaper bags, baby clothes and more.
We tried out the minky burp clothes by Swankie Blankie that Alex Casey Baby carries. I must say, having such a luxurious burp cloth is wonderful, a bit bizarre, and so much fun! (It spoils me for life with old, flannel receiving blankets.)
Alex Casey Baby presents a simple, un-cluttered, boutique-like shopping experience offering upscale gifts and necessities. We researched the market to find the most whimsical yet functional products available. And now you can find them all clearly displayed in one spot. When you are in search of the perfect gift, give it with a touch of love from Alex Casey Baby.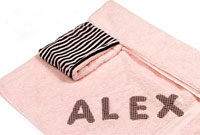 If you want to win a personalized towel (or a gift certificate of equal value to Alex Casey Baby) just leave a comment here at this post.
This contest is open to US addresses. Canadian and UK residents may enter as well, but please note, if you win you will have to pay the additional shipping costs, as well as any duty and taxes. We will announce the winner on February 7th.
Alex Casey Baby is also offering a 10% discount to our readers. Simply enter the promo code 5minutes when ordering.