This post may contain affiliate links. Read my disclosure policy here.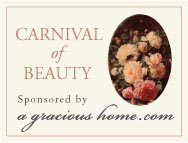 I'm looking forward to reading some great posts during this week's Carnival of Beauty. Remember Wednesday is Carnival Day.

The Carnival of Beauty is hosted this week by
Iris @ eph2810.


Also, Kelly from Pass the Torch is hosting a contest this week. The contest is for posts celebrating "hopeful, empowered, responsible young people" and it runs until this Sunday. Check it out.