This post may contain affiliate links. Read my disclosure policy here.

Project to Tackle: Front Closet
So, how many homes did you visit this weekend?
(You did participate didn't you?)
I know the only reason I was able to show my home is because of Tackle It Tuesday! Yes, I would have had to miss the party if I hadn't been steadily conquering the catch-alls and chaos in my home each week.
Thanks BooMama for hosting this fun Tour of Homes.
What a stunning hit it was – 232 blogs! I have made it to only just over 100, but will slowly try to get to the entire list. And if I you dropped by here and I have not yet made it to your blog yet, please forgive me. (Feel free to holler at me and then I will know that I missed you and I will come running over in my slippers!)
With all those folks dropping by, I was so pleased that I didn't have to hang up any coats in my hall closet. I would have died of embarrassment! It is a terrible mess – really it is – just look!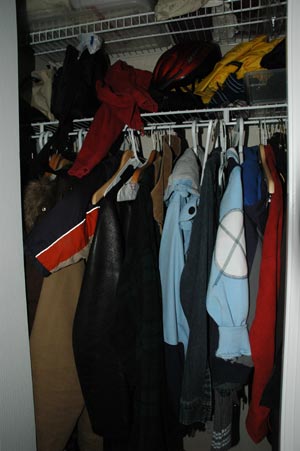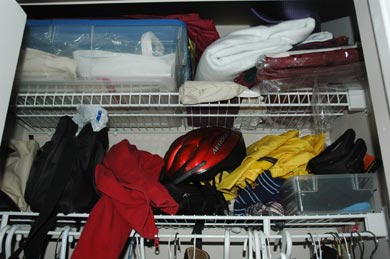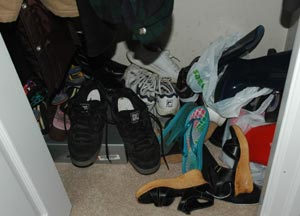 So, I bought a shoe rack and more wooden hangers (on sale!!!) and ta da! It is now slightly presentable. Yes, if I am having a number of guests over, I will have to remove the coats to make room, but at least I will have matching hangers! Woohoo! (Can you tell I am excited?!?)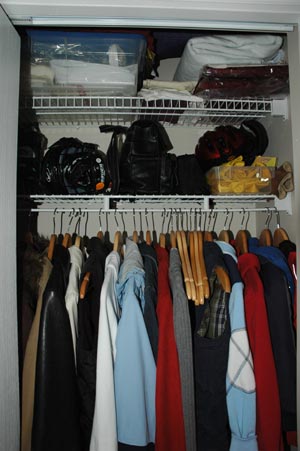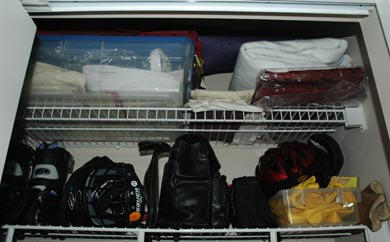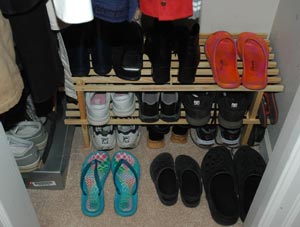 I can't wait to see what you did… (Did anyone do anything special that was inspired by something you saw on the tour?)
Please Note: I tend to do my visiting from the comment links, not the Mr. Linky. So please leave a comment when you add your name to the Linky, so that I don't miss you. (The reason I use the comment links is that some visitors are not participating in Tackle It Tuesday, but I still drop by and visit their blog. In past weeks I have tried to go through both lists, but I just want to give you the heads up that if you aren't in the comments, I might miss your place by accident.)
So what did you tackle this week?
Let us know and join the party.
We are making housework blog-able!
Join Us For Tackle It Tuesday

Each week on Tuesday, we are posting before and after pictures of a project or trouble area that we tackled this week.

I will link to any of you who are also playing along, so add a comment and/or email me. Find out more about Tackle It Tuesday here.

The project can be little or big – whatever you want. Basically, Tackle It Tuesday is about giving ourselves incentive, deadlines and satisfaction in getting our household tasks done.