This post may contain affiliate links. Read my disclosure policy here.
**UPDATED TO ADD WINNER**
When you hear mentions of rain drops on roses and whiskers on kittens, do you break out into song and dance? Have you ever wished you could?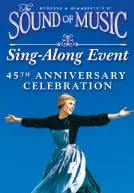 Twentieth Century Fox Home Entertainment and NCM Fathom bring you the chance to take a trip down memory lane and sing along with legendary Julie Andrews on October 19th and 26th with The Sound of Music Sing-Along Event: 45th Anniversary Celebration at 6:30 P.M. local time on the big screen in high definition at your local movie theater.
In celebration of the release of The Sound of Music on Blu-Ray™ and DVD Combo Packs available November 2, guests will have the chance to enjoy the sing-along version of the fully restored in true HD, Academy Award-winning feature with timeless hits you already know all the words to such as "The Sound of Music," "Edelweiss," "My Favorite Things," "Climb Ev'ry Mountain" and "Do-Re-Mi."
Tickets are now on sale. To see the event trailer, learn more about the event and participating theaters, buy tickets or download promotional tools to share with your friends, visit www.fathomevents.com.
Would you like to attend? We have a pair of tickets, retail value $25.00, to a showing on October 26th. Just check the listing of theaters and if there is a showing near you, leave a comment below with the city and theater. Remember it will be on the night of October 26th at 6:30 P.M. We will announce our winner on Friday morning!
NCM Fathom is providing a pair of tickets for our winner. I was also sent a pair of tickets to enjoy a showing of The Sound of Music Sing-Along Event at a local theater.
CONGRATULATIONS to Darcie Comment #13. You have won two tickets to enjoy the Sound of Music Sing-Along Event. An email has been sent your way with instructions on claiming your prize. You can also email us at contests5m4m(at)gmail(dot)com.