This post may contain affiliate links. Read my disclosure policy here.
On Saturday, I held an Investiture ceremony for my Daisy Troop. I am their trusty leader. At the end of the ceremony, while we snacked on cheese, crackers, grapes and daisy cupcakes, my 6-year-old daughter came up to me, with her plate of snacks barely touched, and said the most shocking thing – "Mom, I don't want to eat anymore, because I don't want to get fat."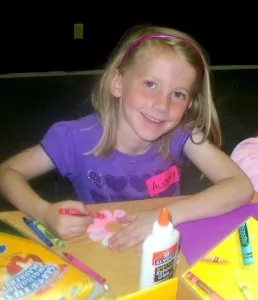 I was taken aback. My beautiful girl, didn't want to eat, because of the fear of gaining weight!! I was very confused as to where this all came from because she had never expressed concern about weight before.
I pulled her aside and told her that while it is important to want to eat healthy foods because we want to treat our bodies well, we should never worry about becoming fat. I assured her that she is beautiful and always will be. Even if she is tall, short, skinny or fat, she will be beautiful, because she is an amazing girl inside and out!
Later on in the day, I asked her a bit more about her comment, and discovered that it stemmed from a health lesson at school. Sadly, the only thing that she took away from the lesson was that "eating foods that are bad for you will make you fat."
My Girl Scout troop will earn a petal patch this year for learning to respect themselves and others, so I spent the next day researching the best way to tackle self-esteem, inner beauty and healthy habits with my troop of fifteen 6 – 7 year olds.
It was tough. Most of the sites that I found were for older girls. Dove has some great resources even, but not quite for the age range that I am working with. I finally found a few interesting ideas and with a bit of brainstorming, I think that I came up with a perfect plan.
I am going to have a Paper Bag Princess Party for my troop.
At the meeting before the party, I will read to my troop, The Paper Bag Princess. I will then send each girl home with a paper bag dress that they will decorate by coloring things that they enjoy or feel that they are good at. Then the girls will wear their paper bag dresses to the party.
At the start of the party, the girls will each receive a crown that will have empty spots for jewels. They will earn the jewels by completing tasks at various stations.
At one station, they will make their very own kindness lip gloss. It will serve as a reminder to always speak kind words to others. At another station they will have some healthy, yet fun treats and learn the importance of taking care of our bodies by eating nutritious foods that will help us to grow strong.
At a third station the girls will receive royal mail. I am most excited about this station. A week or two before the party, I will ask the parents to write a letter to their daughter that mentions five positive things that their daughter does. I will then seal the letter in an envelope with a special heart sticker. The letters will be read to each girl individually.
The girls will also make special princess star wands at one of the stations. On each tip of the star, we will help the girls to write traits that make them beautiful on the inside. They can also jot down what things they feel that they excel at.
Finally the girls will make a special sparkly time capsule. They will decorate their time capsule and then on a piece of paper will finish the following sentence – "Because I am a special person, I can one day imagine myself doing ____________." They will then place the paper inside of their capsule and save it, to open again in five to ten years.
My hope is that each girl will leave the party feeling strong and beautiful. I want to work some magic in their hearts.