This post may contain affiliate links. Read my disclosure policy here.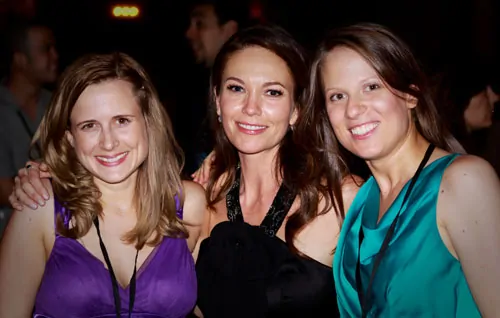 Meeting Diane Lane at the Secretariat World Premiere
On September 30th, Erica, our assistant extraordinaire here at 5 Minutes for Mom, and I attended the Secretariat World Premiere in Hollywood. We had the honor of interviewing Diane Lane at the party afterwards where we grabbed this quick shot.
It was an incredible experience and we both LOVED the movie. (You can read more about the film in my Secretariat review and interview with Secretariat Director, Randall Wallace.)
Secretariat is a must see for sure! I will be going again this weekend to see it with my son.
Diane was stunning and when she casually sat down in a chair at our table for our interview I was momentarily frozen with the realization that Diane Lane was sitting in front of me! And yet, while we chatted about motherhood and movie-making, I quickly forgot I was talking to a movie star. I was simply talking to a fellow mom with whom I could visit all night!
Thank you Diane for taking the time to talk to us at the end of an exhausting day. It was a meeting I will never forget!
Secretariat opened in theaters on October, 8th, 2010.You can also find Secretariat on Facebook at: Facebook.com/Secretariat and follow Secretariat on Twitter at: Twitter.com/SecretariatFilm.
Here is a fun thumbnail linky…
But if you prefer the old style, you can use this linky:
Thanks to Uisce for creating Wordless Wednesday.

Written by Janice, co-founder of 5 Minutes for Mom
Please Note: 5 Minutes for Mom attended the World Premiere of Secretariat in Hollywood as guests of Walt Disney Pictures. As usual, our opinions are 100% our own.