This post may contain affiliate links. Read my disclosure policy here.
Happy Saturday! Two giveaways have closed and we have some winners to announce.
First we have a lucky winner in our $100 JCPenney Gift Card Giveaway.

I have been doing a lot of shopping at JCPenney lately and have been finding some really impressive deals. They always seem to have great sales going on. The weather is getting colder, and I am sure we could all find a way to spend $100 at JCPenney, either at a local store or online.
Congratulations to Comment #85 Jen S. You are our lucky $100 Gift Card winner! An email has been sent your way with directions on how to claim your prize. You can also claim your prize by emailing us at contests5m4m(at)gmail(dot)com. Congratulations Jen!

Next we have 5 winners to announce in our MyCokeRewards.com Tailgating Giveaway.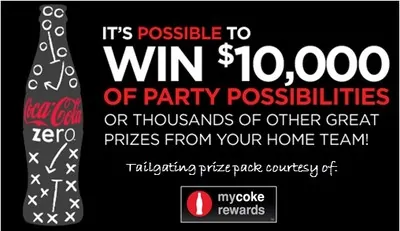 Coke Zero™ is celebrating fall football with a fun sweepstakes on MyCokeRewards.com, where you can win a $10,000 Ultimate Football Party from Coke Zero™.

That's $10,000 for you and a professional party planner to create the party of your dreams for you, your friends, and family. You can check out the details here.
We were sent one 'Tailgating Prize Pack' valued at $200 to give away to one lucky reader. Congratulations to Comment #11 Jamie. You are our lucky winner! Your prize pack includes:
Rolling (foldable) Cooler
Long Sleeve T-shirt
Cinch Tote
Stadium Cushion
Cup
Nerf like footballs
100 points for redemption on MyCokeRewards.com
4 of you are also receiving 100 My Coke Rewards points.
Congratulations to our 4 winners – Comment #61 Barbara, Comment #26 Angie, Comment #32 Krystal and Comment #4 Tiffany.
Emails have been sent to all of our winners. If you won, you can also email us at contests5m4m(at)gmail(dot)com to claim your prize.