This post may contain affiliate links. Read my disclosure policy here.
Janice and I have shared about our own struggles with Postpartum Depression but what I've never considered is Post-Adoption Depression.
Michelle from MY SEMBLANCE OF SANITY has offered to share her story with us.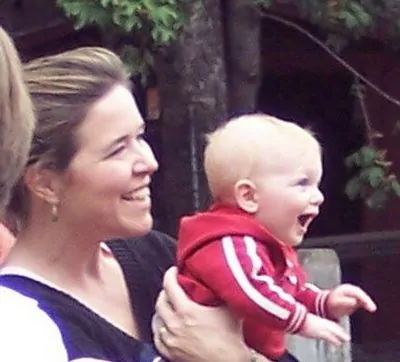 Michelle you have a beautiful adoption story, but tell us what happened afterward?

Well, the foster care system has a long and arduous process but unlike overseas adoption, your baby is with you DURING that process. I think the biggest shock for me was that my Mother's Instinct that I grew to rely on with my two biological children didn't kick in quite the same with Izaiah.
I don't know why but I have a feeling it was because I was a complete stranger to this child when he was "delivered" to me. When you are pregnant, you have 9 months to feel connected and get to "know" your baby. This lack of confidence in knowing what he wanted when he cried coupled with the internal desire to make his life better than the life he knew before me was quite defeating and soon sent me into a whirlwind of anxiety, frustration and depression. I was a good mom two other times, what was wrong with me THIS time?
When/how did you recognize that you were clinically depressed?
I am a very gentle and patient mom. And a very placid, creative-thinking, make-a-craft-out-of-everything, kind of mom. I think when my frustrations hit levels I hadn't known before, I was terrified.
The day I kicked a hole in one of our doors because the baby just wouldn't sleep, I knew it was time to get help.
How did you cope? What suggestions do you have for other moms dealing with depression?
I tried to tell myself that I could fix it. I didn't need a doctor. I wasn't one of "those" moms. But my bouts of feeling like I had no idea what I was doing and my I-give-up-I-can't-do-this attitude was more than I could bear alone. I prayed a lot and I went to the doctor and ASKED for medicine. Something I have never done!
How does post adoption depression differ from postpartum depression?
There is no research on PADS (Post-Adoption Depression) however it is recognized among adoption professionals but I don't think the training offered to adoptive parents covers this.
I didn't get ANY information about it so I wasn't expecting it at all. I would assume the biggest difference is that you know it's not hormonal because there was no pregnancy. Many women hide it because of embarrassment…how can you be depressed over something you worked so long and hard for?
What should we do if we think we or a friend is struggling with depression?
Don't be afraid to ask for help. Don't be ashamed. Asking for help and wanting to get better makes you a GOOD mom. I think as a society we view depression as a weakness.
But just like any other clinical illness, it is something that needs to be monitored by a doctor. Get help. Love hard. Pray harder. And know you are a good mom.
Thank you so much Michelle for your openness. I believe we all need to let each other know that we are not alone. We are here to support each other.
Thank you for having me. I hope it is good fodder for all the moms reading!