This post may contain affiliate links. Read my disclosure policy here.
A New Year Tackle
Tonight as I type up this post, people all across the world are making plans and promises to improve their lives in 2008. For me, a more organized home is always at the top of my self improvement list.
So what better way for me to start my New Year than with a tackle! And this tackle is a big organization tackle – one of my least favorite things to do! But – wow – does it feel fabulous when the job is tackled and I stand victorious, photographing my work.
Organizing Toys
With Christmas comes more toys! And those new toys need a place to live.
Jackson's room – although it usually appears tidy with the toys all put away in containers – has been getting very disorganized lately. The toys were all mixed up and in the wrong containers and it was driving me crazy.
So before I could put away the new toys, I needed to sort out all the old toys and put them back in their proper places. This of course required making a huge mess as I took out each toy, sorted and reassigned containers.
Here is my mess mid-tackle: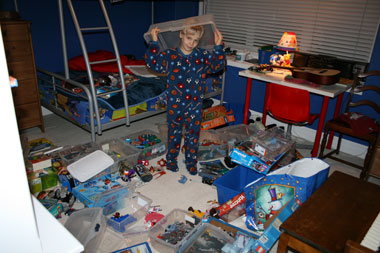 And here is the after shot: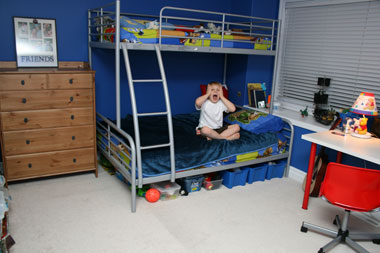 This next photo shows Jackson's bookshelf where I keep most of his toys. Jackson's room used to be an office, hence the huge bookshelf. My father was a theologian and had literally tens of thousands of books before he died. My mom donated the majority of them to the local seminary, but we did keep a few hundred. For lack of storage space, I had to leave some of them on the top shelves in Jackson's rooms. Jackson doesn't mind though. He loves that he has his Grandpa's old books. (My father died before Jackson was born.)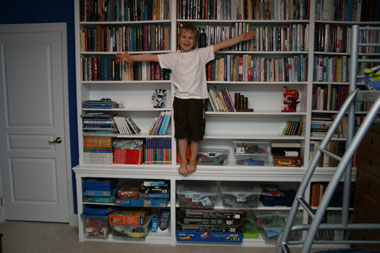 We hope you are having a great start to your New Year and if you are tackling a project, leave us a comment and let us know.