This post may contain affiliate links. Read my disclosure policy here.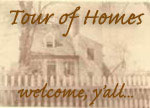 Oh – I am so glad you stopped by!
Welcome to our home.

I know you have so many places to get to today, but I hope you can come in for a quick visit.

Come on in…

First we have our living room/dining room area. Thank goodness for Tackle It Tuesday, or else you would not be able to see our lovely dining room table. It sometimes doubles as a scrapping area and has been known to be covered for months in scrap stuff. (I do have an area in the basement, but sometimes it just creeps up here.)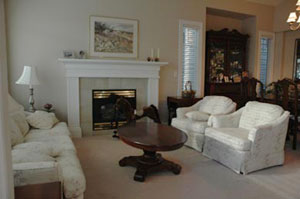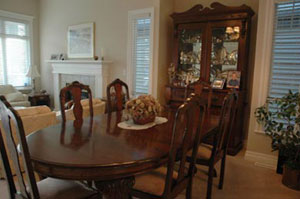 Next we have our "great room." Nowadays, houses around here are being built with rooms that include kitchen and living space. Here we have our main living area. This place can quickly look like a tornado ripped through with the high traffic it gets. The family room, which has the colored squares covering our hardwood floor, is Jackson main play area, complete with his own table.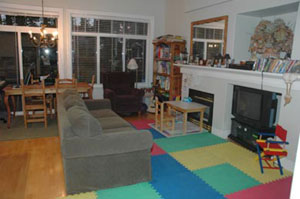 To the left, you can see my "work space" at the kitchen table. (For you Tacklers – look closely – it is still clean!) We have an office area upstairs, but I prefer to work down here in the middle of the action. Eventually we will enclose the upstairs open office area and turn it into another bedroom.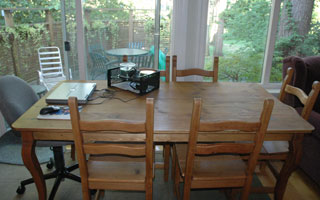 I love my work area – during the day it is so inspiring with the trees and sunlight. (This picture was taken for a Tackle post.)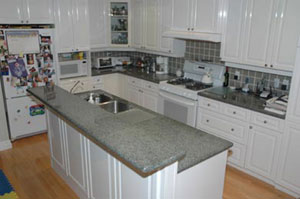 And the kitchen is in here too. It is wonderful to have it all together. I can cook or clean the kitchen while watching Jackson play, or if after his bedtime, even watch some TV. I love it!

Downstairs we have another playroom – it used to have a pool table but we gave it to a friend so Jackson could have a place to play hockey etc during our long, rainy fall and winter.

Our bedrooms are upstairs, but we won't bother going up there today. (You may have seen Jackson's room and our bathroom in previous Tackle It Tuesday posts.)

We are especially grateful for this home, because, well, it isn't ours. My hubby and I do not own it. My mom does and we live here with her. This arrangement works out very well for us. She has her bedroom and en-suite bathroom on the main floor and we have the upstairs, and pretty much the basement, which includes my scrap area, a TV area and Jackson's other play room, to ourselves. We share all the living space on the main floor.

Actually, my mom is rarely here, so we basically have the place to ourselves. My mom, my twin sister Susan and I run our online children's stores together and we have a home office at Susan's townhouse two blocks away. Ironically, my mom spends most of her time there. She even cooks and eats her meals there! Jackson is always complaining that Grandma doesn't live here anymore because most of the time he spends with her is over at Susan's house.

Housing prices here have gone crazy here – and I mean really crazy. You do not want me to tell you how much a house costs in this neighborhood – and we live in the suburbs! So in order to reduce financial stress and to allow me to stay at home with Jackson, we have decided that living here makes the most sense right now.

Yes, my mom is the most generous, incredible woman and we are so grateful for what she is doing for us. It sometimes does cause my husband and me stress, and hurts our pride, that we do not own a house of our own, but right now it seems like this is what we should do. My mom insists that the house is too big for her anyway and tells us that we do not need to be in any hurry to move. So here we are. Grateful and humble.

Thank you so much for coming over. It has been so great having you.

But one more thing – here at 5 Minutes for Mom we promise to bring you some of the best stuff online.

So take a quick hop over and visit our latest post. We're featuring a fabulous new Mom-Created line of sun protective children's clothing and we really don't want you to miss it! (Also we've arranged for you to get 50% off of EVERYTHING. You'll want to stock up for next summer… we sure did.)

Thanks again for coming – and come back soon!