This post may contain affiliate links. Read my disclosure policy here.
Alright. Sorry this is getting up so late in the day folks. Here are our lucky winners for the day!
First, we start off with an exciting Who Wants to be a Millionaire Giveaway!
The new season of Millionaire is going to be a real game-changer. From the very first question, you'll see more strategy, more unpredictability and more excitement. Plus, there's a new lifeline, and the road to a million is going to get a bit shorter, with the elimination of the $50,000 question.
It's the same great "Who Wants to be a Millionaire" with a few new twists and turns that will add even more risk, reward and fun.
There are some other changes too:
Millionaire will now be played in two rounds. Round One, consisting of the first ten questions is where we've made some big changes to game play. For those questions, both difficulty and dollar values are now randomized to create greater drama, risk and reward for both contestants and viewers. Now, the first question of the game could be worth as much as $25,000, and quite possibly paired with the easiest question of the day.

There's an added bonus to these first ten randomized questions – the dollars are cumulative, enabling contestants to make bigger money, faster.

Once a contestant gets past the exciting first round of questions, we're into Round Two where the ultimate goal remains the same – to take home the million dollar grand prize. First, however, contestants will still face the $100,000, $250,000 and $500,000 questions. With winnings of this magnitude, Millionaire remains the richest game show on television.
To celebrate the new season of Millionaire we have one awesome prize for comment #131 Jerri! You have won a $150 Visa Gift Card and a Millionaire Prize Pack. Congrats!
Next we have a winner to announce in our Playmobil Puppet Theater Giveaway.
The My Take Along Puppet Theater is an amazing all-in-one creativity station that helps encourage kids to use their imagination as they create their own stories and plays right there on their very own little stage!
Included in the My Take Along Puppet Theater are six different figures, changeable scenes, an assortment of accessories, and a sound box that plays four different sound effects to make your stories complete! The best part is that everything packs up neatly and quickly inside the theater which doubles as storage and a carrying case! That means you can take the puppet theater along with you anywhere!!!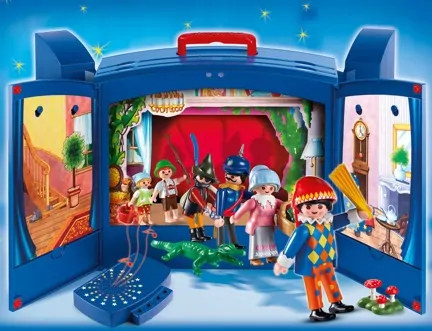 Congratulations to Comment #53 Liz You have won a My Take Along Puppet Theater.