This post may contain affiliate links. Read my disclosure policy here.
Merry Christmas!
You're all hopefully sleeping soundly — enjoying a restful Christmas Eve in preparation for the fun ahead in a few hours.
It's 11:30 PM here and I'm up entertaining my night owl baby Sophia.
Since the days leading up to Dec 25th are for most moms filled with tackling… and for many Christmas Day involves heroic feats of cooking, serving, entertaining and cleaning… we're not expecting many of you to have time to talk about those tackles. But we're here so any of you hard core tacklers can link up and celebrate the busyness of the season together.
We'll be updating later with photos from our 'Christmas tackles' later as the day progresses.
For now, sweet dreams and may your Christmas days be blessed.
UPDATE: This is Janice updating. It is 4:20am and I am just finishing getting the presents under the tree and heading to bed! Since it is already after 7am on the east coast, I imagine some of you are elbow deep in tissue and wrapping paper right now.
The reason I am up so late is because my in-laws are French Canadian and we celebrate Christmas with them on Christmas Eve with a huge midnight dinner. Jackson stayed up – without any grumpiness – until 1:40am when we finally got in the car to come home. Once we arrived home, I had to nurse Olivia and get her to bed. Only then could I play "Santa" and get all the presents out and organized.
Susan and her family celebrate over here with us on Christmas day, so I am in charge of all of their presents. With Susan so busy with the stores, I purchased and wrapped all of their presents too! (Sophia and Julia's stockings are at their house though. So they will open those in the morning before they come over.)
So here is a quick shot of our tree, jam packed and waiting for morning.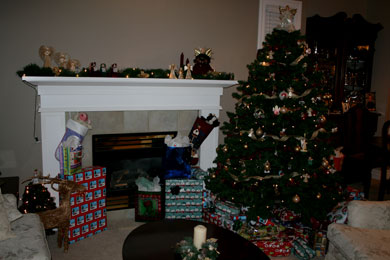 Now I better get to bed – the sun will be up soon! I am thanking the Lord that He gave me a husband who cooks!!! My hubby will be up and tending to the turkey so I will be able to get in some extra sleep. And with Jackson up till almost 2am, hopefully he will sleep in too! Let's just hope Olivia sleeps well!