This post may contain affiliate links. Read my disclosure policy here.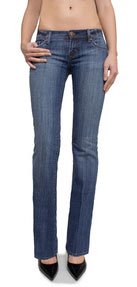 I have to admit, I was a bit nervous. I mean shopping for jeans is hard enough – but ordering them online?!?
But the True Jeans fit system really works! My jeans arrived – and they fit beautifully! I am so excited I just had to tell you in case you are looking for some new jeans.
(And in case you have no idea what I am talking about, a couple weeks ago we had a contest for True Jeans – an online jeans store that matches you to the perfect designer jeans.)
I ordered the iT Jeans in Hottie and the Red Engine Bootcut in black. (This picture is unfortunately not of me!) They both fit perfectly and are super comfortable. (The iT Jeans are the most affordable at $68 a pair.)
In case you want to spend some of your Christmas money on some fabulous designer jeans, head over to True Jeans. Make sure you remember to enter the discount code 5minmom for 10% off. This code is good through till December 31.