This post may contain affiliate links. Read my disclosure policy here.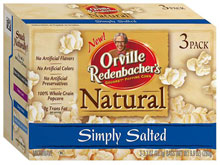 At the end of a long day, curling up with a movie and a bowl of popcorn is about as perfect as it gets for me.
So this holiday season, we are serving up a year of delicious Orville popcorn with an "Orville popcorn for a year" coupon book, along with a 12 month, 2 at-a-time subscription to Netflix!
As a Canadian, I haven't had the luxury of trying out Netflix – an online movie rental service that lets you rent movies through the mail with free shipping and no late fees – but I hear it is fantastic. And now with the writer's strike forcing so many TV shows into reruns – it is the perfect time for Netflix. I will just have to envy the winner from up here in Canada.
And if you haven't been down the popcorn aisle recently, Orville has a new Natural line available. It's 100 percent natural, with no artificial flavors, colors or preservatives, and comes in three flavors: Buttery Garlic, Buttery Salt and Pepper, and Simply Salted. My mouth is watering as I type this. It is making me want to shut off this computer, grab some Orville popcorn and slip in a movie. Good thing I don't have Netflix, or else this contest might not get posted today!
If you want to have a year of free movies and popcorn, cross your fingers and enter by leaving a comment here at this post and linking back to this contest and to www.orville.com. We will announce the winner on January, 1st 2008. (Since Netflix is only available in the US, this contest is open only to US readers.)