This post may contain affiliate links. Read my disclosure policy here.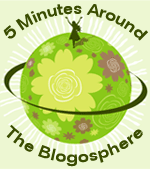 CONTESTS & GIVEAWAYS
Over at An Island Life, you could win a 6-pack of personalized bag tags for your child or a personalized mug or plate with a loved one's picture on it. Stop by for more info.
The Crunchy Domestic Goddess has a fabulous giveaway going on right now where you could win one of four great prizes – a Tees for Change shirt, What's Cooking Weekly subscription, Mama Needs It gift certificate, or HP Photo Books. You have until December 19th to enter.
Did You See That? has a full color copy of What To Expect Guide to a Healthy Home. To enter, just leave a comment on the giveaway post before December 17th.
And if you don't win the above giveaway, here's another chance! Lookit! I Spy . . . is also giving away a copy of What To Expect Guide to a Healthy Home. Just leave a comment on the giveaway post telling her what your most often used 'tip or trick' is to staying healthy. Hurry! This contest ends tonight (Sunday)!
Are you a hot chick? Almost Somewhat Positive is giving away a copy of How to Eat Like a Hot Chick by Jodi Lipper & Cerina Vincent. Deadline to enter is December 21st.

The Cradle – a new site for new and expectant parents – is holding a giveaway for some amazing name-brand baby products. Stop by the giveaway entry site before December 20th.
Win a beautiful pair of earrings by Twisted Silver just in time for those holiday parties. Stop by sassyfrazz before December 18th.
My Fashion Life is giving away a $50 Gift Card courtesy of Gifts.com. Deadline: December 20th.
A SEASON FOR GIVING BACK

JustGive is a nonprofit organization whose mission is to connect people with the charities and causes they care about and to increase overall giving. They have over 1,000,000 non-profit organizations listed and different ways in which you can give back – whether you want to buy a Charity Gift Certificate, start a Charity Wedding Registry, create a Charity Wish List, or make a Memorial donation. Give back to make a real difference in a life, in your community, and in the world.
Share Our Strength and Ferrero Rocher have teamed up this holiday season to help end childhood hunger in America and you can help! Stop by www.ShareSomethingSweet.com, where you can personalize a holiday-themed snow globe to send to friends and family. For the first 20,000 electronic snow globes sent, Ferrero will donate $1 each to Share Our Strength.

Empowering Youth, Inc, is sponsoring an effort to raise funds for St. Jude Children's Research Hospital. Last year, "Linking for Dollars" raised $500! You can help. Empowering Youth will pay one dollar to St. Jude, just for posting this announcement. Details are here.
COOL BLOGGING TOOLS
A while ago we shared a cool new site called We Believe in Girls. They're now looking to continue spreading the word about WeBIG with a 160×600 pixel flash-based widget that will easily fit into your blog sidebar. The widget will display quotes from posts by you and other bloggers about We Believe in Girls, which will be aggregated from their new linkblog (http://webelieveingirls.com/links_blog). They're hoping the messages displayed in the widget will inform more people about the site and overall mission of the WeBIG program. If you're interested in blogging about WeBig and would like to add the widget to your sidebar, please let me know and I can forward your info over to them for consideration.
TIS' THE SEASON
If you just can't find the time to build a gingerbread house this holiday season, why not make a virtual one? Jenny B Harris has designed the cutest little house complete with all the candy decorations. The best part is that there's no mess to clean up afterwards!
According to a 2007 Best Buy holiday survey, consumers consider teenagers between the ages of 13 and 19 the most difficult to "wow". Nearly 60 percent of consumers who are buying for teens consider shopping for them difficult because their tastes and interests are so different, and they admit to having at least one teen on their list that won't be "wowed" by their gifts this year.To help parents and others who are shopping for teenagers, Best Buy partnered with teen idol Drake Bell, recording artist and star of Nickelodeon's Drake & Josh, to develop a series of quirky and fun videos that translate teen-speak into clear, gift-giving directions. We need all the help we can get, right?
HELP WANTED
Tangled & True is holding a casting call for female writers who love all things modern, simple, pretty, and organic. It's not a paying gig but think about the exposure and creative outlet you'll receive! If this sound like something you'd be interested in, stop by there for more information.
If you would like to have a post on your blog featured in 5 Minutes Around The Blogosphere, please send us an email at features5minutesformom at gmail dot com and we'll see if it can be arranged.
Kailani can be found at An Island Life and An Island Review.