This post may contain affiliate links. Read my disclosure policy here.
Over the river, and through the wood,
To Grandmother's house we go;
The horse knows the way to carry the sleigh
through the white and drifted snow.
Many of us will be taking some sort of journey in these next few weeks. It may just be a quick trip across town to grandma's house or a trip to the airport to catch a plane or pick up visitors, or if you're really lucky, you have a long drive to your holiday destination (I actually have a lengthy drive to see one family and then a flight to another). Long ago, I began implementing the strategy of bringing along a new toy or book to help hold a child's interest. My Mommy's Tote by P. H. Hanson is a great activity book that could help take some of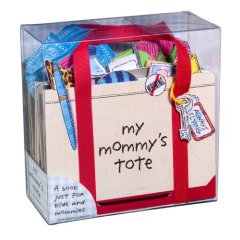 the edge off a long car drive. You may be familiar with the other books in the series, such as My Grandpa's Briefcase and My Granny's Purse.
My Mommy's Tote has so many pockets, flaps, and wheels to spin that a child from two on up would be easily entertained in the car (Although she's not in the target age range, my nine-year-old daughter thinks it's really cool). It's all made of a very sturdy cardboard. There's a laptop that comes out and unfolds, a clock to work on time-telling, spin wheels for learning numbers and letters, and so much more.
We have three of these activity books to give away to a reader in the U.S. or Canada. Please leave a comment to win. We will draw the winners on Thursday December 20.